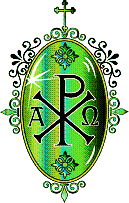 Saints-B
Saints whose name begins with the letter B

What greater joy does a soldier experience than that of victory? No matter how battered and bruised his body, if victory in a noble cause was his, it remains a pleasant memory for the rest of his life. Witness the proud figure and firm gait of the veterans of the various wars who take their places in a parade. Hear the tales of gallant deeds they relate. But if they are proud of their feats, what shall we say of the heroes in the spiritual combat? Can any battlefield compare with that to which the soldier of Christ must go, or any enemy, with the cohorts of Satan? How glorious is the victory of the soldier of Christ if he has won the battle against so mighty a foe! With firm step he may cross the threshold of eternity to join the ranks of God's heroes when his General greets him: "Well done, good and faithful servant, enter into the joy of your Lord" (Mt. 25,23).
But there are degrees of heroism. Of all the battles we must wage, few require greater virtue than to keep silent in the time of suffering. We long to defend ourselves when unjustly accused; nature prompts us to seek consolation from our friends; our evil inclinations urge us to retaliate. And so, Thomas a Kempis says, "It is no small prudence to be silent in the evil time and not to be disturbed by the judgment of men." The saintly Franciscan Father Pamphilus was misunderstood and misinterpreted by those who were nearest to him, those on whose support he should have been able to depend. This test of his virtue was a difficult one, yet he bore it with a patience that was admirable and truly heroic. No word of resentment ever passed his lips. He was a true soldier of the misunderstood Christ! – What an example for us! May it impel us to make greater efforts to fight our battles more courageously.
"Jesus held his peace" (Mt. 26,63). By a single word Christ could have confounded His accusers and become the object of praise and admiration. But the great General chose otherwise. He knew that His followers would expect to learn from Him how to proceed in their struggles with the enemy, and so He taught them the surest lesson – silence.
Marion A. Habig, OFM
---

The lives of the saints!

Blessed Balthassar of Chiavari
Blessed Baptista Varani
Blessed Bartolo of San Gimignano
Saint Beatrice de Silva
Saint Benedict Joseph Labre
Saint Benedict the Moor
Blessed Benedict of Urbino
Blessed Bentivolio Buoni
Blessed Benvenute of Gubbio
Saint Benvenute of Osimo
Blessed Benvenute of Recanati
Saint Berard and Companions
Saint Bernadatte Soubirous
Blessed Bernard of Baden
Blessed Bernardin of Feltre
Saint Bernardine of Siena
Saint Bernard of Corleone
Saint Blase
Blessed Bernard of Offida
Blessed Queen Blanche
Saint Bonaventure
Blessed Bonaventure of Barcelona
Blessed Bonaventure of Potenza
Saint Bridget



---