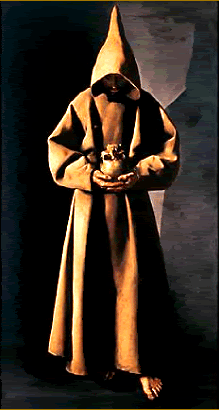 Blessed Balthassar of Chiavari

Blessed Balthassar of Chiavari
(Beata Balthassar di Chiavari)

Feast Day – October 17


This saintly man was a descendant of an ancient noble family. He spent his years on earth in unsullied purity. As a Franciscan he was professor of theology and then provincial of the order. He distinguished himself in all the virtues of a good religious, practiced the greatest personal severities, fasted much, and considered it a real pleasure to be accounted the last among his brethren.
After he had completed his term in office, Blessed Balthassar of Chiavari withdrew to the convent at Binasco. There he devoted himself entirely to the contemplation of heavenly tings and to the salvation of immortal souls. He labored untiringly in the pulpit and in the confessional. We can labor for souls by our words. Blessed Balthassar did so both in the pulpit and in the confessional. He followed the admonition of the Apostle of the Gentiles: "Preach the word, be instant in season, out of season; reprove, entreat, rebuke in all patience and doctrine" (2 Tim. 4,2). A kind word will always find a place to rest.
We can also labor for souls by our good example. While Balthassar was a superior in the order, he set a good example to his subjects. Words stir people, but example carries them away, says a Latin proverb. Hence, St Paul says to Timothy: "Be an example to the faithful in word, in conversation." (I Tim 4,12). God sent him very painful diseases. One day, however, he was favored with a visit of the Blessed Mother of God, who greatly strengthened and consoled him. When he was seventy-three years old, he was summoned by Brother Death to enter into eternal rest.
---
---
Blessed Balthassar of Chiavari died in the year 1490. His persevering fidelity to the rule and his indefatigable zeal for souls merited for him eternal happiness. Pope Pius XI approved the veneration paid to Blessed Balthassar from the time of his death.
Prayer of the Church:
O almighty God, who didst appoint Thy blessed confessor Balthassar to serve Thee worthily both in the pulpit and in the confessional, mercifully hear our prayers, and grant us through his merits and intercession, the grace to labor incessantly for the salvation of souls and produce worthy acts of virtue. Through Christ Our Lord, Amen.
From: The Franciscan Book of Saints, Marion A. Habig, OFM
---
---


Return to Traditional Franciscan Calendar Page


Return to Saints Page


Return to Roman Catholic Saints Homepage