Defenders




of




Christendom


                   
  By James Fitzhenry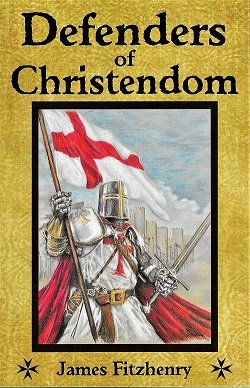 In his newest book, Defenders of Christendom, James Fitzhenry takes you on an exciting journey and introduces us to some of history's finest examples of heroism. These knights, who would become the Defenders of Christendom, were expected to prove their valor by heroic deeds, just as they were expected to live exemplary lives of Christian virtue, putting their faith into practice to perform good works for the benefit of all. The best of them cared less for wealth, power, and pleasure than they did for honor. They understood that the Catholic Church is a divine institution established by Christ as the one means for man to save his soul and thus one day enter into heaven to live forever with God. If these men had the privilege of being made members of one of the fighting religious orders such as the Order of Hospitallers, they would give up everything they owned, even giving over their own will to that of their superiors through a sincere vow of obedience.
These heroic men extended themselves in every way to accomplish chivalrous deeds that would sustain and even embellish the prestige of their family name. All men of this time understood that with a great name came great responsibility and these worthy men were expected to cooperate with God's grace and live up to their calling as soldiers of Christ. They needed no further incentive, and no external inducement could have had upon them as profound an effect as their own conscience. Knowing them for what they were, Pope Alexander IV designated them "the elect people of God, a princely race, an earnest body of righteous men."
Battles - Honor - Miracles! This book is filled with amazing stories of little-known Catholic heroes presenting spectacles of bravery and valor never exceeded in all the annals of history. Demonstrating his gallantry through daring feats of arms, the knight's faith, coupled with his marvelous courage, made him nearly invincible on the field of battle. Built around a stirring chronicle of the Knights of St. John, these inspiring accounts bring to life the Defenders of Christendom who fought with courage, chivalry, and an unwavering trust in God to protect their neighbor, their country, and their Faith.
"If you want to be strong and of good courage, be sure that you care less about death than about shame."
                                                      – Geoffroi de Charny
Defenders of Christendom
in paperback 254 pages for only $18.95 US plus shipping

---
---