Catholic Books
Pelayo, King of Asturias
Now available for purchase!
Pelayo is the hero who led the remnant of the Catholic Visigoths into battle against the Moslem invaders of Spain. He was confronted by an adversary so deadly and potent that it seemed useless, and perhaps even unreasonable, to resist. Yet hope and great faith remained with him. Everything else had already been taken away, and resistance was all he had left - even though his defiance seemed foolhardy and certain to lead to his utter ruin. Pelayo's tenacity was nothing short of amazing, and what he went on to achieve went so far beyond what a man could ordinarily hope to accomplish that one is left to conclude that either the entire undertaking was proof of an outrageous and irrational audacity which would flow from generation to generation, or was nothing less than the result of Divine Intervention.
Pelayo is the source of the Spanish monarchy, and all of Spain's mighty achievements, all of the pageantry and glory of Spain, whose presence was so strongly felt at various turning points in history throughout the ages, depended upon Pelayo and his victory at Covadonga.
Also available on Amazon:
Pelayo, King of Asturias: James Fitzhenry: 9780979630170: Amazon.com: Books
---
James Fitzhenry's 
Defenders of Christendom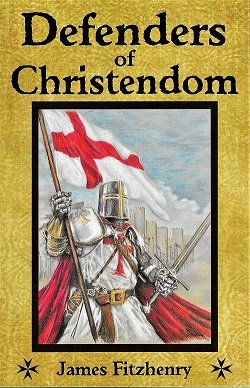 Battles - Honor - Miracles! This book is filled with amazing stories of little-known Catholic heroes presenting spectacles of bravery and valor never exceeded in all the annals of history. Demonstrating his gallantry through daring feats of arms, the knight's faith, coupled with his marvelous courage, made him nearly invincible on the field of battle. Built around a stirring chronicle of the Knights of St. John, these inspiring accounts bring to life the Defenders of Christendom who fought with courage, chivalry, and an unwavering trust in God to protect their neighbor, their country, and their Faith. read more . . .

Buy your copy of Defenders of Christendom now
for only $18.95 US, plus shipping

Also available on Amazon:
---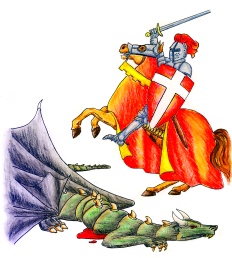 Catholic Vitality Publications
Catholic Vitality Publications is a small Catholic press producing inspirational and authentically Catholic books for both children and adults. These highly acclaimed works have been reviewed and promoted by scores of Catholic priests, prominent Catholics, and home schools around the world. Each is beautifully illustrated by the author, especially Learning to Love God, which has large color illustrations to capture the attention of younger children. This book, in particular, is useful in assisting children to understand how close God is to them, and how worthy He is of their love.

El Cid, God's Own Champion, and Saint Fernando III, A Kingdom for Christ, are true life biographies that will inspire young men to become Catholic men of character. The lives of these great champions are more than just thrilling tales, for they are also manly examples that your children can emulate to become truly virtuous as they grow in the faith.

---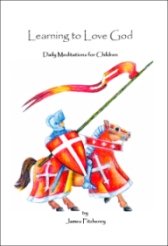 Learning to Love God, Daily Meditations for Children - Written for young children, the purpose of this book is to present God to young readers in order to make Him known and loved. It is necessary to know God to love Him, and this book attempts to present the goodness of God to children that they may love and understand Him from their youth, simply because He is worthy of all love. The left page is addressed to the child specifically, and the right page supports the idea presented on the opposing page that an adult may need to explain. It is not possible to present all that the Church teaches on this subject in the limited scope of this book, but it is hoped that this book may be used as a foundation in the knowledge and love of God. Continue reading...
---
---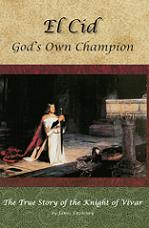 El Cid, God's Own Champion - Written for ages 12 through adult, this book is an inspiring biography about an extraordinary Catholic knight chosen by God to save his nation from Islamic aggression. Known by the honorary title of El Cid, Rodrigo Diaz is an epic hero who is relevant to our time. Exiled by his king, insulted and maligned by those who should have supported him, he selflessly fought against seemingly insurmountable odds to save Christian Spain. Commanding the respect even of his enemies, upon his death a Muslim historian acclaimed him, "a miracle among the great miracles of the Almighty." The Cid is an example of what can be achieved through devotion to duty, prayer, and trust in God. Continue reading...

Available as a soft back book for only $16.95 US + shipping
---
---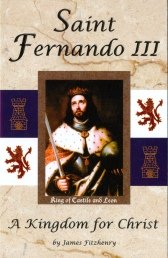 Saint Fernando III, A Kingdom for Christ - This historical biography, written for ages 12 and up, depicts the life of the greatest Spanish monarch, King of Castile and Leon, St. Fernando III. He was born in the year 1199 - exactly 100 years after the death of his illustrious ancestor, El Cid. In him would be combined the soul of a knight dedicated entirely to God, the irresistible power of the Cid, and due to his royal heritage, the authority to marshal the might of an entire kingdom against the enemies of Christ. Personally leading his armies into battle, he took back more territory from Islam than any other king in history. First cousin of St. Louis IX of France, he died a saintly death in the year 1252. His incorrupt body can still be seen in the Cathedral of Seville, and his feast-day, May 30th, is traditionally a holy day of obligation in Spain. Continue reading...
Available as a soft back for only $26.95 US + shipping
---
---
Catholic Vitality Publications
P.O. Box 12
Saint Marys, KS 66536
---
---
---
Return to Roman Catholic Saint Home Page from Catholic Books