Learning to Love God
Daily Meditations for Children
by James Fitzhenry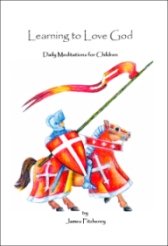 A certain priest recently told his congregation about an elderly woman whom he had assisted at her death bed. She was the mother of 11 children, all now grown.  She explained to Father that she had dutifully taught them their catechism in their youth, and although all of them knew it very well, not one of them had persevered in the Faith. She recognized too late that she had not taught them to LOVE God. At the moment of her death, it was the greatest sorrow of her entire life. She wanted Father to make known to young parents that they needed to teach their children of God's great love for us, and that we should love God in return. Yes, we must teach our children their catechism, but in addition we must teach them to truly love God. It is the light that will guide their will and unite them to Our Lord during all the storms that will buffet them in this life.
This book, Learning to Love God, was originally written many years ago for the author's own children. It is hoped that by making it available to all it will help Catholic children to truly love God and keep that most precious gift of the True Faith to sustain them throughout their lives.
From the foreword:
"The purpose of this book is to present God to young readers in order to make Him known and loved. It is necessary to know God to love Him, and this book attempts to present the goodness of God to children that they may love and understand Him from their youth, simply because He is worthy of all love. The left page is addressed to the child specifically, and the right page supports the idea presented on the opposing page that an adult may need to explain. It is not possible to present all that the Church teaches on this subject in the limited scope of this book, but it is hoped that this book may be used as a foundation in the knowledge and love of God."
Sample pages from Learning to Love God: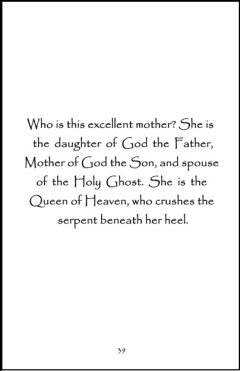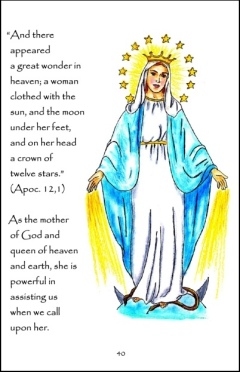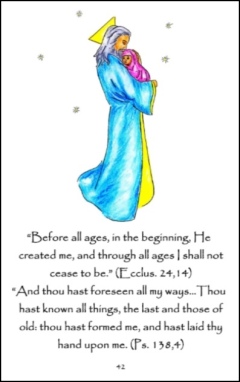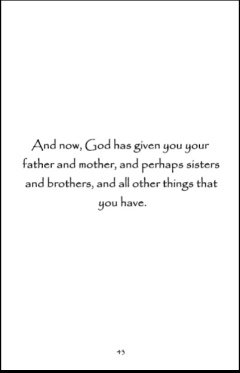 ---
---
Learning to Love God

Art from the book:
---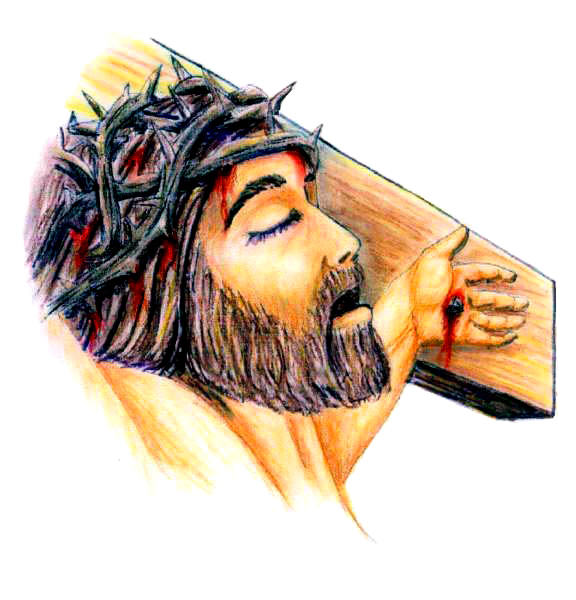 Reviews:
"Learning to Love God fills a void in Traditional Catholic children's literature. It is a unique and inspiring work to help parents and grandparents introduce the truths of the Faith – and the images of Catholicism – to their little ones." John Vennari, Editor, Catholic Family News

"As a mother of five who lives in the world yet tries to not be of the world, I have always begun teaching my children their catechism lessons at a young age. There are only a few resources that I have found to be informal enough to read while sitting on the floor together, helpful enough to be engaging for small children, and stimulating enough to keep all of us interested. Learning to Love God, by James Fitzhenry is one of them.

Can children love God when they do not know Him? And can they love Him fully when what they know is brief and encapsulated in a few question and answers? I strongly believe that the answer to both is no. There is so much to love about God and so much to know about God's goodness that I am thrilled someone has finally put, into a book form, talks where we can learn every day a little bit and find that there seems to be always more to come! 

As I read page 74 to my six year old son this morning, "You will be God's friend, and He will assist you and protect you." He asked, "I am God's friend?" I paused, dropped my jaw and looked up at him. "Of course, Jeffrey, you are God's friend. And God is your friend!" With that he beamed from ear to ear. Now, after all these years of personalized catechism lessons, I would have thought that he knew that by now. Well, it only goes to show, you never can tell! 

Bravo for Mr. Fitzhenry! And thank God for his artistic ability which makes each page a pleasure!"

Maura Koulik
Author/Editor, The Art of Catholic Mothering


"Thank you so much for the beautiful meditation book for the children. We have been looking for a book like this for many years. God bless you!" - Jim and Lorrie G., Kansas
"I am so delighted with Learning to Love God that I need more copies. This book will be truly loved by my little religion class in our small school. How it warms my heart to turn the pages and immerse my heart in God's Love. My first copy is no longer in my hands. Please hurry! God bless you." - Diane G., California
"One of the best books we have ever seen for children." - Immaculata Bookstore
"May your work help to firmly root the great truths of God's great love for us in the minds of the children, that as they grow, they remain in the simplicity of the child-like love so highly praised by our Divine Lord. Congratulations." - Fr. Vicente A. Griego

"These books were ordered by parents concerned for the spiritual welfare of their children. This is a very great service you have done for souls. I pray that Our Lord and Lady bless this work!" - Colleen W., Indiana

"The book is a very simple, clear and orderly presentation. What I enjoyed greatly are the illustrations. The clean and welcoming style of the book is great for the "thinking space" it provides. The quotations are appropriate and the direction is so important for the youth. I suspect that the parents can use this as a springboard to speak with their children in their early years." - Fr. Richard Voigt

---
Return to Roman Catholic Saints Home Page from Learning to Love God