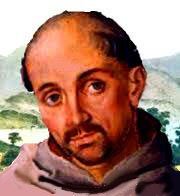 Blessed Bernardin of Feltre

Blessed Bernardin of Feltre
(Beato Bernardino da Feltre)

Feast Day – September 28


Blessed Bernardin was born at Feltre, Venice, and was the son of an ancient and noble family. In baptism he received the name of Martin. His father was repeatedly appointed ambassador for Venice. The boy gave evidence of rare mental gifts, and at the age of twelve he could speak Latin fluently. At fifteen, on the occasion of a treaty, he read in the public square a lengthy poem he had composed, extolling peace. The composition earned him the universal applause of his fellow citizens. In addition the young man possessed unusual piety and angelic innocence.
In accordance with the wishes of his father, he entered the University of Padua to study law. The sudden death of two of his professors, together with the sermons of St James of the March during the Lent of 1456 induced him to enter the Franciscan Order. St James who had a short time before attended the canonization of St Bernardine of Siena, gave him the name of Bernardin, and predicted that, like his patron saint, Blessed Bernardin of Feltre would be a true soldier of Christ against the powers of hell.
After a lengthy preparation in thorough study and still more in the virtues required by the apostolate, Bernardin was appointed to the office of missionary at the age of thirty. He approached the task with fear rather than with confidence in himself, and only in virtue of holy obedience. But shortly the extraordinary results of his preaching began to manifest themselves. With severity he inveighed against the vices of the period, sensuality, pride, and avarice. He was no respecter of persons, but he knew just how to word his reproofs so as to infuse into the hearts of his hearers hatred for their own vices and the desire to get rid of them. For twenty-five years Blessed Bernardin of Feltre preached in almost all the larger towns of Italy as well as in many villages.
---
---
At the end of his missions a large bonfire was usually built, in which bad books, indecent pictures, dice and gambling boards, as well as the false hair of women together with other vain and foolish ornaments of theirs were brought together and consigned to the flames.
Following the instructions of St Francis, Bernardin set himself the special task of composing enmities and removing factions. His success induced Pope Innocent VIII to entrust him with a mission to Umbria to settle various disputes.
The poor were the special object of his solicitude. They were being imposed upon by usurers, who bled them in a merciless way. In order to wrest them from the hands of these men, Blessed Bernardin of Feltre promoted a kind of loan bank called Mounts of Piety. Earlier Franciscan missionaries had introduced them, but Bernardin gave them a new set of rules and gradually popularized them throughout Italy, for which reason he is often considered their founder.
Wealthy citizens were prevailed on to contribute sufficient money, from which the less prosperous could obtain sums as needed, against a reasonable guarantee and moderate interest. The plan furnished the wealthy class with a favorable opportunity to practice mercy without too great a sacrifice. At the same time it was more of a work of Christianity than of business. Countless persons in the lesser walks of life were saved by the plan, and the wealthy became the object of gratitude. This beneficent institution continued to function after Bernardin's death, and in 1515 the general council of the Lateran approved and recommended it.
Rich in merit and virtue, which God frequently attested by miracles, Blessed Bernardin of Feltre entered into eternal rest in the convent at Pavia on September 28, 1494. At once the people came to venerate him, and many miracles were wrought. Pope Innocent X beatified him and the cities of Pavia and Feltre chose him as their patron. The feast of Blessed Bernardin is observed by the Franciscans and Capuchins on September twenty-eight.
A beautiful prayer written by Blessed Bernardin is known to every Catholic today – the Anima Christi, "Soul of Christ, sanctify me." It was a favorite prayer of St Ignatius Loyola, but it is not generally known that it is of Franciscan origin. Pope Pius IX granted an indulgence of three hundred days for each recital of this prayer, and an indulgence of seven years if it is said after Holy Communion. If it is said daily for a month, a plenary indulgence can be gained under the usual conditions.
From: The Franciscan Book of Saints, Marion A. Habig, OFM
---
---


Return to Traditional Franciscan Calendar Page


Return to Saints Page


Return to Roman Catholic Saints Homepage