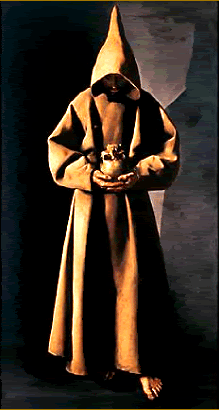 Blessed Benvenute of Recanati

Blessed Benvenute of Recanati
(Blessed Bienvenu de Recanati)
Feast Day – January 28


At Recanati in the old province of Piceno, which has given so many saints to the Franciscan Order, Blessed Benvenute of Recanati was born of Christian parents, early in the thirteenth century. Reared in simplicity and piety, he did not care for the world and its pleasures. But the love of God waxed strong in him, and when he had grown to young manhood, he resolved to quit the world.
At the Franciscan convent in his native town Blessed Benvenute of Recanati asked for admission as a lay brother, and admission was readily granted to this pious young man. In the convent Benvenute was above all concerned about laying a solid foundation in humility, the foundation of all virtues.
The mystery of the profound condescension of our Lord in the Blessed Sacrament had a marvelous attraction for him. On one occasion when he had to supply the place of the sacristan, he was so absorbed in contemplation in the morning after holy Mass, that he forgot himself and remained kneeling before the Blessed Sacrament, becoming aware of things around him only when it was nearly noon.
---
---
The good brother was struck with fear. He had not prepared anything for the meal; what would he set before the brethren? He who had detained him to partake of heavenly bread also provided for the bodily food of his brethren. When Benvenute got to the kitchen, and angel in the appearance of a handsome young man greeted him with a courteous bow and pointed to the meal he had prepared. Benvenute served it, and all the brethren declared that they had never eaten better food.
But the incident made our Brother Cook all the more devout toward the Blessed Sacrament. He visited our Lord in the tabernacle as often as duty permitted. With the permission of his superiors, he communicated very often and derived such fruit from Holy Communion that he seemed to be changed into Christ and to live only for God. Frequently he was filled with rapture and was permitted to embrace our Divine Lord in his arms.
A perfect model of all virtue for his brethren, and rich in grace, he passed to eternal bliss on May 5, 1289. At his grave his intercession was invoked in the most diverse needs, and many miracles constantly increased his veneration. Pope Pius VII permited the Mass and Office in honor of Blessed Benvenute to be celebrated.
*from: The Franciscan Book of Saints, ed. by Marion Habig, ofm
---
---


Return to Traditional Franciscan Calendar Page


Return to Saints Page


Return to Roman Catholic Saints Homepage