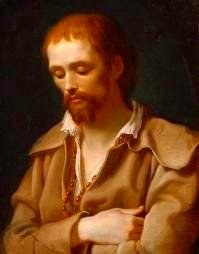 Saint Benedict Joseph Labre

St Benedict Joseph Labre
(St Benoit-Joseph Labre)
Feast Day – April 16

In Saint Benedict Joseph Labre there was realized the full meaning contained in the words of God: "I will destroy the wisdom of the wise, and the prudence of the prudent I will reject." (1 Cor 1,19). Saint Benedict Joseph Labre's entrance into the world took place at Amettes, France. He was the first-born of parents who were favored by God with 15 children.
It appears that the spirit of God, which moved him strongly throughout life, came over Saint Benedict Joseph Labre at the age of 16, for, from that time onward, he lost all inclination to continue his studies. For that reason, too, his training for the priesthood, which his reverend uncle so earnestly desired, came to naught.
Due to his poor health and lack of knowledge, Saint Benedict Joseph Labre was refused admission also among the Carthusians and the Cistercians. Then it was that he was interiorly instructed to imitate the life of St Alexis, leave his parents and his native town, live on alms, and visit the great shrines as a pilgrim. From that day on his soul was flooded with great peace.
---
---
St Benedict's food was composed of the leavings that fell from the tables of others. Alms that had been given to him he gave to the poor. The rags of this beggar of the Lord covered a heart that glowed with love of God and neighbor, and the tenderest devotion to the Blessed Sacrament and to the Mother of God. At Assisi he was received into the Confraternity of the Cord of St. Francis. He has been the pride of that pious society ever since.
His repulsive exterior caused him more pain than it did others, indeed, his sensitiveness on the subject was his most poignant suffering. He used to say: "Our comfort is not in this world." In Rome he was called the poor man of the Forty Hours' Devotion. On the day of his death, April 16, 1783, he dragged himself to a church in Rome and prayed there for two hours until he collapsed. He was carried into a near-by house, where he died that night most peacefully.
Immediately after his death the people proclaimed him a saint. The guardians of Christian morals, Popes Pius IX and Leo XIII, have proposed the beggar Benedict as an example to a generation steeped in materialism. The former beatified him, the latter proclaimed him a saint of the Church.
*from: The Franciscan Book of Saints, ed. by Marion Habig, ofm.
---
---


Return to Franciscan Calendar Page

Return to Saints Page

Return to Roman Catholic Saints Homepage