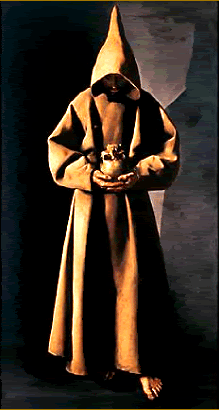 Blessed Bentivolio Buoni

Blessed Bentivolio Buoni
(Bentivoglio de Bonio)

Feast Day - December 24


Bentivolio was born as San Severino in the March of Ancona toward the close of the twelfth century, and belonged to the distinguished family of the Buoni. About the time that he grew into young manhood, reports of St Francis and his newly founded order reached his native town, and shortly after a Franciscan preached at San Severino. Bentivolio was so impressed by his words and his whole appearance, that he became eager to join the new order.
Triumphing over the first objections of his father, Blessed Bentivolio Buoni went to Assisi and received the holy habit from the hands of St Francis himself. Soon he distinguished himself among the brethren by exceptional virtue. Especially noteworthy were his humility, his patience, his obedience, and his childlike simplicity.
He possessed the rare gift of affording, both pleasure and edification by his pious conversation about heavenly things. Although he seemed to say it all in an offhand manner, nevertheless, everybody felt that it came from a holy heart, some invisible power seemed to move them to strive for perfection. Once a bright star was seen shining on his forehead, it was a sign that he was filled with the fire of the Holy Ghost.
The piety and holiness of Blessed Bentivolio was evident in his devout conversation. Just as one can tell by the ticking of a clock whether everything is in proper working order within, so, as a rule, one can detect in a person's conversation how matters stand interiorly with him. He who things only of profits and gain speaks continually of trade and business. He who is filled with self-love speaks continually of himself and considers others unimportant. He who is vain speaks of clothes and beauty. He whose heart is not clean takes pleasure in indecent speech. He who has God in his heart converses with pleasure about God and religious matters.
After he had become a priest and confessor, Bentivolio labored with the blessed success in the holy tribunal of the confessional. At prayer, to which he was most devoted, he was often seen in ecstasy; sometimes he was even raised high above the earth.
God glorified Blessed Bentivolio Buoni by many other miracles before and after his death, so that the veneration that was paid to him at his grave in the Franciscan church at San Severino constantly increased. Pope Pius IX gave the Church's approval to this veneration, thus declaring him blessed.
Prayer of the Church:
O God, who didst reveal Thy glory through the words and miracles of Thy blessed confessor Bentivolio, mercifully grant that through his intercession and merits we may be directed to behold Thy sublime Majesty. Through Christ our Lord. Amen.
From: Franciscan Book of Saints by Marion Habig, OFM
---


Return to Traditional Franciscan Calendar Page

Return to Saints Page

Return to Roman Catholic Saints Homepage