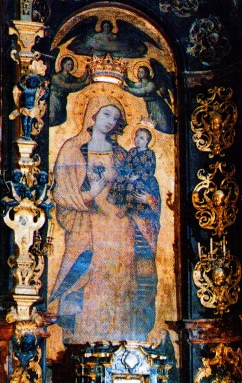 Virgen de la Antigua

Virgin of Antiquity,
or Virgen de la Antigua

This beautiful, miraculous image of Our Lady, the Virgen de la Antigua, shows her standing and holding her Son in her left arm, and in her right hand she holds a rose. The Virgin's face has a kind expression, and is inclined toward the child Jesus, who is holding a goldfinch. Above her head, two angels are poised to arrange a crown. Above them is a third angel with a banner that reads: "Ecce Maria venit ad Templum," referring to the festivity of the Purification. At the feet of the Virgin is a woman found on her knees. The background of the image is golden, adorned with the finest geometric patterns. While the exact age of the image is unknown, experts have traced its origin to approximately the third century, and it is a work done in the Byzantine style.
---
---
When the Muslim's invaded the Iberian Peninsula in the 8th century, the Christians of Seville built a façade before the image to keep the Moors from defacing it. The church was profaned and turned into a Muslim place of worship, and so after a period of centuries the knowledge of the existence and location of the image was lost.
In the year 1248, when St. Fernando III was besieging Seville, when the Saint was kneeling in prayer before the Virgin of the Kings, Our Lady spoke to him through the statue and said: "You have a constant in my image of the Antigua that you love so much and which is in Seville." Then, Our Lady encouraged him to continue the siege, promising him the victory.
St. Fernando was instantly overwhelmed with a holy desire to venerate the image of the Virgin de la Antigua, and was miraculously guided through the city and into the mosque where the image lay hidden behind a wall. Upon his arrival, the blank wall faded from sight, becoming as transparent as the finest pane of glass, allowing Fernando to gaze upon what no man had beheld for many centuries. There, untouched, its secret hidden by the solid wall, was the painted image of the Queen of Heaven holding her Infant Son in her arms.
Fernando was completely unaware of the passage of time as he prayed before the heavenly portrait. It had always been his intention to make Mary the Mistress and Queen of Seville, and when he conquered the city he shattered the obstructing wall and brought this glorious masterpiece to light for all of Christendom.
When the Spanish knights crossed the ocean and came to the New World, they also brought their devotion to Our Lady under the image of the Virgen de la Antiqua. One of these images has been displayed at the Cathedral of Mexico since the year 1652.
---
---


Return to Titles of Mary Page


Return to Roman Catholic Saints Homepage