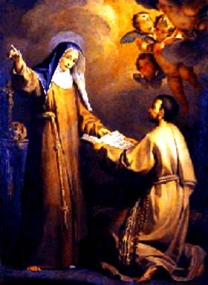 St Hyacintha de Mariscotti

St Hyacintha de Mariscotti
Feast Day – January 30

St Hyacintha, born in 1585, belonged to a wealthy and prominent family. Her father was Count Antonio of Mariscotti, her mother descended from the princely Roman family of the Orsini.
After her younger sister had been given in marriage, the disappointed Clarice, as Hyacintha was then called, entered the convent of the Tertiaries at Viterbo, but apparently only as a secular Tertiary. She permitted herself to be supplied with all sorts of things by way of eatables and articles of dress which enabled her to enjoy quite an agreeable and comfortable existence. Her rooms were furnished with much worldly apparatus.
The spirit of mortification and of penance with which every Tertiary ought to be equipped was in no wise discernible to St Hyacintha de Mariscotti at this point in her life.
Then it happened that she was afflicted with a strange illness, and her confessor was obliged to go to her rooms to administer the sacraments to her. When he saw the worldly and frivolous objects in her cell, he sharply reproved the sick sister.
Following her confessor's advice, she afterwards went to the common refectory and there, with a rope around her neck, begged forgiveness of her fellow sisters for the scandal she had given them.
---
---
However, it was only after she had invoked the aid of St. Catherine of Siena that she dispossessed herself of all frivolous and unnecessary objects, and thereupon resolutely entered upon a life of heroic virtue.
She began to lead a very penitential life, in which she persevered unto the end. She went barefoot, wore an old habit that had been discarded by another sister, and performed the lowliest and most trying tasks. She ate only inferior food with which she mixed bitter herbs. Her bed consisted of a few bare boards, on which there was but a single blanket; a stone served as her pillow. She fostered a special devotion to the sufferings of Christ; and in memory of them, she subjected herself to special austerities on Fridays and in Holy Week. She also entertained a filial love for Mary, the Mother of Mercy, who sometimes appeared to her and comforted her.
Enriched by every virtue and held in great repute by her fellow sisters, St Hyacintha de Mariscotti died in the 55th year of her age, in the year of our Lord 1640. Many miracles occurred at her grave for which reason Pope Benedict XIII placed her in the ranks of the blessed.
In the year 1807 she was canonized by Pope Pius VII.
*from: The Franciscan Book of Saints, ed. by Marion Habig, ofm.
---
---


Return to Franciscan Calendar Page


Return to Saints Page


Return to Roman Catholic Saints Homepage