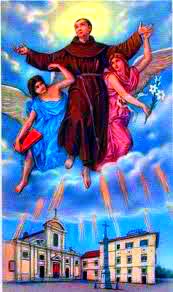 Saint Charles of Sezze

St. Charles of Sezze
(St. Charles de Sezza)

Feast Day – January 7


Charles, the son of lowly country folk, was born at Sezze in Italy on October 22, 1613. At the urgent request of his grand-mother, the rearing of the child was entrusted to her, and the gentle boy acquired a great love of God and of prayer from the example and teaching of this devout lady. He grasped the truths of religion so readily that his parents entertained the sweet hope that Charles would later become a priest.
But when Charles was old enough to go to school, his studies did not meet with marked success; and so, when his schooling ended, his parents were sensible enough to put him to work in the fields with his brothers. There, in God's free nature, a new light came to the boy. From books he had not learned much, but he understood very well the wonders of God's creation. Everything conspired to raise his thoughts to heavenly things, so that his work was constantly mingled with interior prayer. He began to receive the sacraments more frequently, and evinced real zeal for Christian perfection.
Our of veneration for the Virgin Mother of God, he made a vow of chastity at the age of seventeen, and he preserved it so faithfully that the Beloved of pure souls, "who feeds among the lilies" (Cant. 2,16), seemed to have His dwelling-place in the heart of Charles. He was seized with a great desire for holiness. He read with delight the lives of the saints and related them to the others while at work. In the Franciscan church which he often visited, he used to study the pictures of the saints with a desire to imitate them.
---
---
When he was twenty years old he fell dangerously ill, so that his life was despaired of. Then he made a vow that, if he would recover, he would enter the Franciscan Order. At once his illness took a turn for the better, and, true to his vow, although there were many hardships to overcome, Charles received the habit two years later. After his consecration to God through the vows, he advanced visibly not only in piety but in all the virtues of his state of life, so that even the oldest brothers were edified by him and followed his example. He ardently desired to shed his blood for Christ, and asked that he might be sent as a lay brother to the missions in India; but a new illness frustrated the design.
He was sent to a convent in Rome so that he could fully recover his health. But here God Almighty destined him for another field of labor. He received remarkable enlightenment about things divine and about the truths of religion, so that the most learned theologians were astonished at it and consulted with him on some of the most difficult questions. The cardinals and even Pope Clement IX sought his advice. In compliance with the will of God he also wrote several books about spiritual things.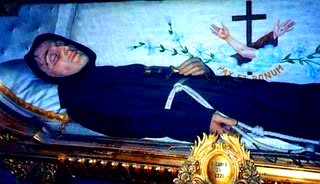 At the same time the pious brother remained deeply humble. Concerning his remarkable gift of enlightenment he used to say to himself, that Our Lord in His wisdom hides such things from the wise but reveals them to the simple, to which class he belonged. He so fervently adored his Lord under the appearances of bread that one day a ray of light like an arrow went out from the Sacred Host and impressed a wound in his left side. This wound was still visible after his death.
Charles died on January 6, 1670. Pope Leo XII pronounced him blessed in 1882, and Pope John XXIII canonized him in the spring of 1959.
*from: The Franciscan Book of Saints, ed. by Marion Habig, ofm
---
---


Return to Traditional Franciscan Calendar Page

Return to Incorruptible Saints Page

Return to Saints Page

Return to Roman Catholic Saints Homepage