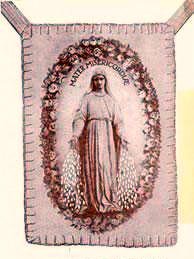 Our Lady of Pellevoisin

Our Lady of Pellevoisin, France

February 13

Pellevoisin is a little village not far from Tours in France. In 1876, a young woman, Estelle Faguette, lay dying from tuberculosis – only five hours to live in the opinion of the doctors. But on the 13th of February, when all were expecting her death, Our Lady appeared near the sickbed. This occurred on three successive nights, and then, as Our Lady had promised, the sick woman was instantly cured on a Saturday.
During the visits, Our Lady of Pellevoisin frequently spoke to Estell, her theme being that which she so often has expressed during the past hundred years:
"I am all-merciful and have great influence over my Son. What distresses me most is the lack of respect for my Son. Publish my glory."
For some months after her miraculous cure, Estelle continued to live quietly at Pellevoisin. She was at a loss to find the means of fulfilling the mission entrusted to her by Our Lady. Her heavenly visitor, however, was watching over her, and Estelle was to see her again and receive more minute instructions as to what was required of her. On the feast of Our Lady's visitation in the same year, 1876, as Estell was praying in her room, she was granted another vision. Our Lady, robed in white and wearing on her breast a white scapular with the image of the Sacred Heart of Jesus, appeared to her favored friend. This was the first of a series of wonderful visions enjoyed by Estelle, ten in all. Again and again Mary pointed to the great need for penance and expiation – a return to God.
---
---
During one of these apparitions, Our Lady of Pellevoisin, taking her white scapular in her hand, held it before Estelle saying,
"I love this devotion."
Immediately Estelle knew that her life's work was to propagate devotion to the Sacred Heart by means of a scapular modeled on Mary's. On her last appearance, December 8th, Our Lady commanded Estelle to approach her Bishop and give him a copy of the new scapular.
"Tell him to help you with all his power, and that nothing would be more agreeable to me than to see this badge on each one of my children, in reparation for the outrages that my Son suffers in the Sacrament of His Love. See, the graces I pour upon those who wear it with confidence, and who help to make it known."
The Prelate in question, the Archbishop of Bourges, gave Estelle a favorable hearing and immediately set up a commission to investigate the whole matter. The result of all this was the establishment at Pellevoisin in 1894 by Pope Leo XIII of an Archconfraternity under the title of Mother of Mercy, Our Lady of Pellevoisin. The membership of this Confraternity had gone on increasing year after year, while Pellevoisin itself has become a center of pilgrimages for thousands of Mary's friends.
Estelle lived her quiet and peaceful life at Pellevoisin, neither desiring nor receiving any personal credit. She died in 1929. Her miraculous cure was recognized in 1983 by Monsignor Paul Vignancour. Although no formal approval has been granted acknowledging the authenticity of the events at Pellevoisin either by the local bishop at Bourges or by the Holy See, numerous acts of secondary level of approval, including recognition of Mary's scapular request, have been granted. Pope Leo XIII, by a Motu Proprio, granted indulgences to encourage the pilgrimage to Pellevoisin on December 20, 1892, and on April 4, 1900, The Congregation of Rites issued a decree granting approval to the Scapular of the Sacred Heart.
---
---


Return to Marian Calendar February from Our Lady of Pellevoisin

Return to Titles of Mary from Our Lady of Pellevoisin

Return to Roman Catholic Saints Homepage from Our Lady of Pellevoisin