Our Lady of Miracles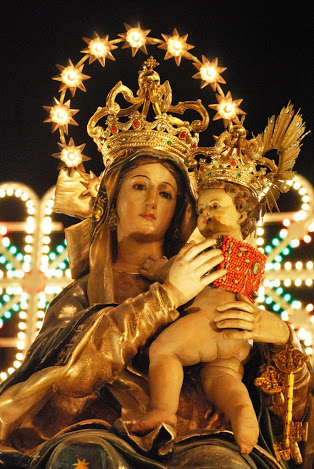 July 4: Our Lady of Miracles, Avignon, France, built by Pope John XXII 14th century

Tradition holds that on the 24th of March, in the year 1320, two criminals were condemned to be burned to death for their crimes. One of them, a youth, called on the Blessed Virgin Mary. After invoking her name he stood in the flames and remained unhurt, while the other was entirely consumed.
Pope John XXII was made aware of what had happened, and recognized the miracle, and directed that a chapel known as Our Lady of Miracles should be built at the execution site. During the French Revolution the chapel was seized as state property, and then sold. The church has now been made into an apartment building "conducive to meditation and contemplation."
---
---
Our Lady of Miracles
As Saint Alphonsus Liguori states so well in "The Glories of Mary:"
"How great then should be our confidence in this queen, knowing how powerful she is with God, and at the same time how rich and full of mercy; so much so that there is no one on earth who does not share in the mercies and favors of Mary! This the blessed Virgin herself revealed to Saint Bridget:"
"I am," she said to her, "the queen of heaven and the mother of mercy; I am the joy of the just, and the gate of entrance for sinners to God; neither is there living on earth a sinner who is so accursed that he is deprived of my compassion; for everyone, if he receives nothing else through by intercession, receives the grace of being less tempted by evil spirits than he otherwise would be; no one, therefore," she added, "who is not entirely accursed, is so entirely cast off by God that he may not return and enjoy His mercy if he invokes my aid. I am called by all the mother of mercy, and truly the mercy of God towards men has made me so merciful towards them…Therefore he shall be miserable in another life, who in this, being able, does not have recourse to me, who am so compassionate to all, and so earnestly desire to aid sinners."
James Fitzhenry, Marian Calendar, roman-catholic-saints.com
---
Have A Great Story About This Topic?
I have very limited information about this feast of Mary. Have you visited this shrine? Do you have more information, or a great story about this? Please share it!
---


Return to Marian Calendar July from Our Lady of Miracles


Return to Titles of Mary from Our Lady of Miracles


Return to Roman Catholic Saints Home Page from Our Lady of Miracles