Our Lady of la Carolle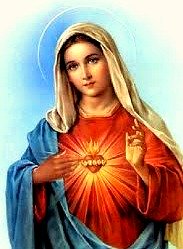 July 3: Our Lady of la Carolle, Paris (1418)

Roadside shrines can still be seen in places all over Europe, though it is nothing like it used to be in the Middle Ages when these shrines were extremely prevalent. They were public reminders of God and his saints, and were meant for the good of the general public who would come upon the shrine and pause for a moment to pray. They could be simple or somewhat elaborate, ranging from unadorned crosses to free standing towers or even small chapels.
According to tradition, on 3 July in the year 1418, a Swiss soldier committed a sacrilege upon a statue of the Blessed Virgin known as Our Lady of la Carolle, or Our Lady of Carole. It was located at the corner of the Rue aux Ours, which was built in the 13th century, and terminated at the hospital of Saint John, which is no longer in existence. The Rue aux Ours is now a short street that begins at Rue Saint-Martin and ends at the Boulevard Sebastopol in Paris, France.
---
---
Our Lady of la Carolle
A soldier of the Duke of Burgandy's troops, said to be a Swiss soldier, came upon the shrine of the Blessed Virgin after having left a tavern where he had gambled away his money. He was probably intoxicated when he drew his sword and repeatedly struck the statue of the Blessed Virgin with the weapon for no known reason. The statue of Our Lady of Carole then began to bleed profusely, as if made of flesh and blood, and wounded by the blows. 

The citizens who had observed the sacrilege were outraged, and followed the soldier as he fled from the scene of his crime. The man was eventually caught and apprehended, and then brought before the Chancellor where he was sentenced to death for the outrage.
In remembrance of this incident, and in expiation for the crime, there was a popular festival that took place on the Rue aux Ours every year. There were fireworks, and a wax figure representing the sacrilegious wretch who had struck the image of the Blessed Virgin was set ablaze. This festival continued until the French Revolution brought an end to the traditional observance.
James Fitzhenry, Marian Calendar, roman-catholic-saints.com
---
Have A Great Story About This Topic?
Do you have a great story? Have You Visited This Shrine? Share it!
---
---


Return to Marian Calendar July from Our Lady of la Carolle


Return to Titles of Mary from Our Lady of la Carolle


Return to Roman Catholic Saints Home Page from Our Lady of la Carolle