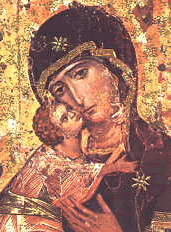 Our Lady of Exile

Our Lady of Exile

January 21


Tradition tells us that St John took Mary to his house in Jerusalem after the death of Jesus. Mary pondered over the wonderful mysteries of her life; she prayed for the new child of hers, the Church; she helped the Apostles with her knowledge of her Son and with her prudent advice. Mary was to all during those long years a pillar of strength. Every day she received Holy Communion; she said again her "Ecce Ancilla" when her God incarnate was within her.
She had to nurse the new-born Church and strengthen the Apostles with her example and prayers; and supply them with many details of Her Son's Life. She had to establish her position as Mother of the Church. During those long years of exile, the Church learned to regard Mary as its Mother. Our Lord would give still more time to increase her merits by more suffering. Her crown was to be the most beautiful possible, and so she remained behind on earth suffering, which intensifies love, humility and submission of God's will.
---
---
Mother Mary still "walks the earth" as her many apparitions, especially of late years, testify. We are not alone in this vale of tears in this earthly exile, as our Mother is always with us. All we need do is keep our hand tightly clasped in hers, walk in her footsteps, remain securely under the protection of her mantle, and never fear, but be secure and safe until she clasps us in her arm eternally to lead us to the throne of her Son to enjoy the mansion He is even now preparing for us.
---
---


Return to Marian Calendar January from Our Lady of Exile

Return to Titles of Mary from Our Lady of Exile

Return to Roman Catholic Saints Homepage from Our Lady of Exile