Our Lady of Bessiere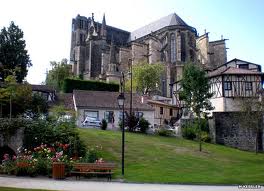 Our Lady of Bessiere
January 11

The region of Limousin is nestled near the heart of France, and the essentially rural area has suffered much from heresies such as that of the French Huguenots over the centuries. Devotion to Our Lady is always a sure remedy, so much so that one of her titles is Destroyer of Heresies.
Among the many miracles said to have taken place at the shrine of Our Lady of Bessiere, in Limousin, France, is one told of a certain heretic who had derided the devotion paid to Our Lady. He would hide in the woods and waylay pilgrims on their way to the shrine.
Fearing neither God nor his Holy Mother, he would block their way, mock them for undertaking such a journey, sneer at their Christian beliefs, and taunt them with sarcastic reproaches and foul ridicule.
---
---
Our Lady of Bessiere
The unhappy man was soon to regret his folly. He was severely punished one day, as upon returning home, he saw his house go up in flames before his very eyes. Even with the assistance of his neighbors, all attempts to put out the flames were fruitless. In a matter of minutes his house was fully engulfed in flames.
As the fire was at its height, Our Lady appeared in the flames in all her majesty and was seen to frown upon the heretic. This vision was witnessed by all present, who immediately fell upon their knees, urging the heretic to do the same.
A broken man, frightened and frustrated, he prostrated himself, calling upon the Mother of God to be merciful to him.
His pleas were not in vain, but it was not his house that she saved, but his soul. In that moment he experienced a true and lasting conversion. He went on to live a very penitential life, and died true believer.
---
---

Return to Marian Calendar Page from Our Lady of Bessiere

Return to Titles of Mary Page from Our Lady of Bessiere

Return to Roman Catholic Saints Homepage from Our Lady of Bessiere