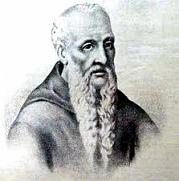 Blessed Odoric of Pordenone

Blessed Odoric Matiussi of Pordenone, or Bl Oderic de Pordenone
January 14

Blessed Odoric of Pordenone was born of noble parents in the year 1265 at Pordenone in Friuli. He entered the Franciscan Order in the convent of Udine when he was only 15 years old. He felt himself called by God to be a missionary, and so prepared himself for his vocation by a strict life of penance, intimate union with God in solitude, and earnest application to study.
Ordained a priest, Blessed Odoric of Pordenone labored as a zealous and forceful preacher of penance. The people came from great distances to hear his sermons and through him to be reconciled to God in the tribunal of penance. But soon his vast field of labor no longer satisfied his burning zeal. He was desirous of winning souls for God in the distant heathen countries and, if God so wished it, even to shed his blood for Christ. In 1296 he went as a missionary to the Balkan Peninsula, and then to the Mongols in southern Russia.
In the year 1314, Blessed Odoric of Pordenone sailed for the Orient. From Constantinople he crossed the Black Sea and landed at Trebizond, whence he travelled and preached in Armenia, Media, and Persia. In all these countries the Franciscans had founded mission centers.
---
---
With an Irish confrere, Friar James, he sailed to India and the islands of Ceylon, Sumatra and Java. He then pushed forward to China, and preaching Christ crucified as he went his way, he finally arrived at the capital, Cambalac, now called Peiping. There he met the great apostle of China, the Franciscan friar John of Montecorvino, who had been appointed archbishop of Cambalec in 1307.
After three years of fruitful labor in Cambalec, Odoric resolved to go to Europe and submit a report of his 15 years of apostolic labor to the then reigning pontiff John XXII, in the hope of securing fresh recruits for the apostolate. He traveled through China and central Asia, and returned to Italy in the year 1330, 65 years old, and emaciated by incessant toil and sufferings of various kinds, so that none of his brethren recognized him.
Reaching Pisa, he fell ill, and, as has been recorded, it was revealed to him that he should go to his native town and repair to the convent at Udine. At Padua he rested several days, and, at the command of his superiors, dictated an account of his apostolic journeys to Brother William. In this account the humble son of St. Francis says nothing of the hardships and dangers that he encountered; but his associates report that he suffered torment from evil spirits and wicked men, from wild animals, from hunger and thirst, and from heat and cold. Once he was seized by cruel heathens and tortured nigh unto death, when our Savior and the Blessed Mother appeared, consoling and strengthening him. Having arrived at Udine after a wearisome journey, Odoric patiently awaited death in the convent where he had once received the holy habit. After making a general confession and receiving the last sacraments he departed this laborious life and entered into eternal rest on January 14, 1331.
Moved by the many miracles that were wrought at the tomb of the great missionary, Pope Benedict XIV, in the year 1775, approved the veneration which had been paid to Blessed Odoric of Pordenone. In the year 1881 the city of Pordenone erected a magnificent memorial to its distinguished son.
*from: The Franciscan Book of Saints, ed. by Marion Habig, ofm.
---
---


Return to Franciscan Calendar Page

Return to Saints Page

Return to Roman Catholic Saints Homepage