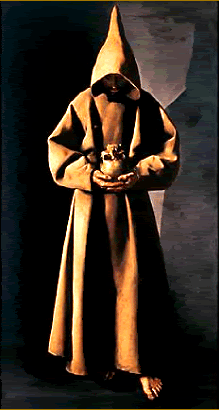 Blessed John Wall

Blessed John Wall

(Joachim of St Anna)

Martyr, First Order

John Wall, in religion Father Joachim of St Anna, was the fourth son of Anthony Wall of Chingle (Singleton) Hall, Lancashire. He was born in 1620, and when very young, was sent to the English College at Douai. From there he proceeded to Rome, where he was raised to the priesthood in 1648. Several years later he returned to Douai and was clothed in the habit of St Francis in the convent of St Bonaventure. He made his solemn profession on January 1, 1652. So great was the estimation in which he was held by his brethren, that within a few months he was elected vicar of the convent, and soon after, master of novices.
In 1656 he joined the English mission, and for twelve years he labored in Worcestershire under the names of Francis Johnson or Webb, winning souls even more by his example than by his words. At Harvington to this day the memory of Blessed Father Johnson is cherished, and stories of his heroic zeal are recounted by the descendants of those who were privileged to know and love the glorious martyr.
Some of the charges raised against Father Wall when he was captured, were that he had said Mass, heard confessions, and received converts into the Church. He was accidentally found, in December, 1678, at the house of a friend, Mr Finch of Rushock, and carried off by the sheriff's officer. He was committed to Worcester jail, and lay captive for five months, enduring patiently all the loneliness, suffering, and horrors of prison life, which at that time were scarcely less dreadful than death itself.
---
---
On April 25, 1679, Blessed John Wall was brought to court. His condemnation was a foregone conclusion. He was sent back to prison until the king's further pleasure concerning him should be known; and for another four months he languished in captivity. It was during this period that he was offered his life if he would deny his faith. "But I told them," said the martyr, "that I would not buy my life at so dear a rate as to wrong my conscience."
One of Father Wall's brethren in religion, Father William Levison, had the privilege of seeing the martyr for the space of four or five hours on the day before his execution. Father William tells us:
"I heard his confession and communicated him, to his great joy and satisfaction. While in prison he carried himself like a true servant of his crucified Master, thirsting after nothing more than the shedding of his blood for the love of his God, which he performed with a courage and cheerfulness becoming a valiant soldier of Christ, to the great edification of all the Catholics, and the admiration of all Protestants."
Father Wall's martyrdom took place on Red Hill, overlooking the city of Worcester, on August 22, 1679. His head was kept in the convent at Douai until the French Revolution broke out and the community fled to England. What became of it, then, is not known.
The Catholics of Worcester found consolation in remarking, as a proof of his sanctity, that the grass around the grave of Blessed John Wall always appeared green, while the rest of the churchyard was bare. A large crucifix was raised in the little Catholic churchyard at Harvington to the memory of this saintly son of St Francis, Father Joachim of St Anna.
Father Joachim of St Anna was beatified under the name of Blessed John Wall, December 15, 1929, together with a fellow Franciscan, Father Godfrey Maurice Jones ,or Blessed Godfrey, and one hundred and thirty-four companions.
*from The Franciscan Book of Saints, Fr. Marion Habig, OFM
---
---


Return to Saints Page


Return to Martyrs Page


Return to Roman Catholic Saints Homepage