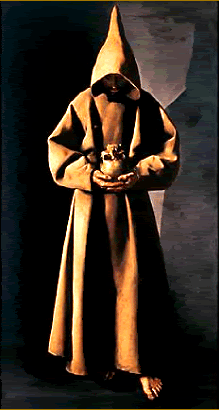 Blessed Godfrey

Blessed Godfrey

(Blessed Godfrey Maurice Jones, Father Buckley)

Martyr, First Order

Always loyal to the Church! That was the watchword of the Franciscans in England during the terrible persecution under King Henry VIII, Edward VI, and Elizabeth. Blessed Godfrey Maurice Jones, who was of their number, came from a good Welsh family which had remained Catholic. He had been in prison at two different times while he was still a secular priest. Then in 1590 he left prison of Wisbeach Castle, and went abroad; but whether he was banished r made his escape, we do not know.
During his imprisonment, Father Buckley, as Blessed Godfrey is also known in history, had gained a religious vocation. Immediately after he had recovered his liberty, he went to Greenwich and received the habit of St Francis. He was professed at Pontoise, France, and shortly afterwards went to Rome, where he lived in the convent of Ara Coeli for almost three years. To one who had already borne the cross and practiced the hardships of poverty, the further sacrifice of his worldly god cost little. But it needed more than ordinary humility to enter the religious life at nearly sixty years of age, to submit to religious superiors, who were probably his inferiors in years, sufferings, and spiritual experience.
When his religious training was completed, he offered himself for the English missions. Before starting, he had an audience with Pope Clement VIII, who, embracing him and giving him his blessing, said:
"Go, for I believe that you are a true son of St Francis, and pray to God for me and His Holy Church."
He arrived in London in 1593, but remained there only a few months. He then went to the country, where he labored in the vineyard of the Lord for almost three years. Then he was again sent to prison, remaining there about two years.
Not long afterwards, in July, 1598, he was arraigned for going over the seas and being made a priest by authority from Rome, and for returning again to England. He answered:
"If this be a crime, I must own myself guilty; for, I am a priest and I came over to England to gain as many souls as I could for Christ."
---
---
Then he was condemned to be hanged, drawn, and quartered. When he heard the sentence, he fell upon his knees and thanked God for having considered him worthy of martyrdom.
On July 12th he was drawn on a hurdle to St Thomas Waterings. Kneeling down at the foot of the gallows he prayed for a short while, and then addressed the crowd which had gathered. When the last moment came, he prayed in a loud voice:
"Sweet Jesus, have mercy on my soul."
An officer said in derision that he had forgotten Our Blessed Lady. Then he added:
"Blessed Queen of heaven, be my advocate and pray for me now and ever."
Then Blessed Godfrey repeated the prayer, "Sweet Jesus," and raised his hands as high as he could, which was the sign for a priest who might be in the crowd to give him absolution. Then he asked all the Catholics present to say the Credo and to pray for him.
After the execution his remains were left exposed for several days, as was the custom of the times, but soon devout Catholics secretly removed them. Pope Pius XI added his name to the list of the beatified, along with a fellow Franciscan,
---
---
Blessed John Wall
.
*from The Franciscan Book of Saints, Fr. Marion Habig, OFM
---


Return to Saints Page


Return to Martyrs Page


Return to Roman Catholic Saints Homepage