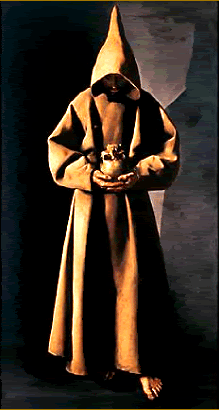 Blessed James of Pieve

Blessed James of Pieve
(Blessed Jacques del Piebe)
Feast Day - January 15 Martyr


Blessed James of Pieve was born in the thirteenth century at Pieve di Cadore, or Castelpieve, a little town in Lombardy. Even before his birth his mother was acquainted with his destiny in a twofold vision. Once she beheld a boy who was carrying a church in his hands; at another time she saw a red lily sprout forth. She concluded then that her child would become a priest and that he would shed his blood innocently. And so it happened.
Blessed James of Pieve began his course of studies in order to devote himself to the religious state. So that he could do a lot of good as a priest, he studied, besides theology, also civil and ecclesiastical law, as was frequently done in those days. While he excelled in his classes, he refrained from taking part in the boisterous revelry of the students, and always treasured the grace of holy purity.
After he had become a priest, the love of God so forcefully attracted him to poverty and humility that he decided to devote his entire life in a humble sphere to the service of the poor and the afflicted. He joined the Third Order of St Francis, and publically wore the habit of the Tertiaries. He used his knowledge of law to protect the poor and the oppressed, especially widows and orphans, and he preferred to exercise his spiritual ministry in poor churches, where, too, he was most devout in his duties.
At the gate of his native town there was a hospital that had become ruinous, and with it a deserted church. James acquired both structures and spent the entire fortune he had inherited from his parents in restoring them. Then he moved there and rendered to the poor the corporal and spiritual works of mercy. One day he found among old papers in the hospital one stating that several pieces of land belonged to it which a prominent man had acquired unjustly. James went to him and asked him kindly to yield the land to the hospital; but when he could accomplish nothing by being kind, he defended the claims of the poor sick in court, and a decision was rendered in their favor.
---
---
But his defense of the poor was to exact from him his life. The prominent man invited him, as if by way of reconciliation, to a supper, and had him treacherously murdered by his servants on his way home. This occurred on January 15, 1304.
The body was dragged into a deep gully and thickly covered with brushwood and brambles. But after a few days the peasants saw the brambles sprouting in the middle of winter. On clearing them away, the body of the murdered saintly priest was found.
Blessed James of Pieve was solemnly laid to rest in the hospital church, where his body was found incorrupt when the tomb was opened after one hundred and seventy-four years. His cult was approved in 1806. He is sometimes called Blessed James the Almsgiver.
*from: The Franciscan Book of Saints, ed. by Marion Habig, ofm
---
---


Return to Traditional Franciscan Calendar Page

Return to Incorrupt Saints Page

Return to Saints Page

Return to Roman Catholic Saints Homepage