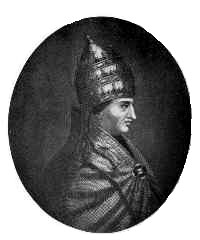 Blessed Gregory X

Blessed Gregory X
(Pope Gregory X)
January 10


This holy Tertiary pope of the thirteenth century and friend of St Bonaventure was a true son of St Francis, distinguished himself by his love for the holy places in Palestine and his incessant efforts to establish peace everywhere. Theobald Visconti, as he was called before he became pope, was born at Piacenza in 1210. He was conspicuous from his youth by his virtue as well as his success in studies. He devoted himself especially to the study of canon law, first in Italy, then in Paris and Liege.
In Paris, where he was associated with the intellectual circles surrounding the university for more than two decades, his closest friends were the Franciscans, especially St Bonaventure. After he was named archdeacon of Liege, Pope Clement IV commissioned him to preach the Crusades. Theobald himself took up the cross, but instead was sent on a peace mission to England.
When his friend, the Tertiary King Louis IX died in 1270, Theobald hastened eastward to comfort the king's son and the other Crusaders and also to satisfy his devotion by visiting the holy places. At this time the Holy See was vacant. It had been such for almost three years, ever since the death of Clement IV in November, 1268.
Finally, on September 1, 1271, a committee of six cardinals, to whom the rest had referred the election, chose a new pope. Much to the surprise of everyone, their choice fell on Theobald, who was still in the Holy Land. St Bonaventure had been summoned from Paris to assist in nominating a candidate; and he had recommended the Archdeacon of Liege, who was then about sixty years old.
---
---
Returning to Rome, Theobald was first ordained a priest, then consecrated a bishop; and on March 27, 1272, he was crowned Pope Gregory X.
The reign of Blessed Gregory X as pope was short, only three years and nine months; but in that short time he accomplished much as a peacemaker. Sometimes he called on the Franciscans to work for peace, for instance, during the trouble between Bologna and Venice.
It was Blessed Gregory X who convoked the Fourteenth General Council, the Second of Lyons, which was in session for two months from May to July, 1274, and was attended by five hundred bishops. The previous year he made St Bonaventure a Cardinal, and told him to accept the red hat "in humility of spirit." He wanted the Seraphic Doctor at his side during the Council.
On the way to France, the Pope was joined by St Bonaventure; and together they reached Lyons six months before the opening of the Council. St Bonaventure died July 15, two days before the final session.
The more public affairs claimed his attention, so much the more did Gregory X strive for personal holiness and perfection. Abstemious in diet and sparing in speech, he managed to devote much time to prayer and to carry out his many duties in a prayerful spirit and constant union with God.
Blessed Gregory X's death occurred at Arezzo on January 10, 1276. Pope Benedict XIV inserted his name in the Roman martyrology.
*from: The Franciscan Book of Saints, ed. by Marion Habig, ofm
---
---


Return to Traditional Franciscan Calendar Page

Return to Saints Page

Return to Roman Catholic Saints Homepage