Vigil of the Nativity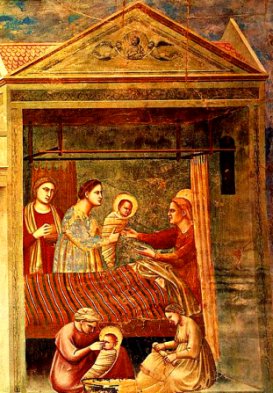 September 7: Vigil of the Nativity of Our Lady, instituted by Pope Gregory II (722)
The day destined for the parturition of Saint Anne and for the birth of Her, who was consecrated and sanctified to be the Mother of God, had arrived: a day most fortunate for the world. This birth happened on the eighth day of September, fully nine months having elapsed since the Conception of the soul of our most holy Queen and Lady.
Saint Anne was prepared by an interior voice of the Lord, informing Her, that the hour of her parturition had come. Full of the joy of the Holy Spirit at this information, she prostrated herself before the Lord and besought the assistance of his grace and his protection for a happy deliverance.
Presently she felt a movement in her womb similar to that which is proper to creatures being born to the light. The most blessed child Mary was at the same time by divine providence and power ravished into a most high ecstasy. Hence Mary was born into the world without perceiving it by her senses, for their operations and faculties were held in suspense. As She had the use of her reason, She would have perceived it by her senses, if they would have been left to operate in their natural manner at that time. However, the Almighty disposed otherwise, in order that the Princess of heaven might be spared the sensible experience otherwise connected with birth.
---
---
Vigil of the Nativity
She was born pure and stainless, beautiful and full of grace, thereby demonstrating, that She was free from the law and the tribute of sin. Although She was born substantially like other daughters of Adam, yet her birth was accompanied by such circumstances and conditions of grace, that it was the most wonderful and miraculous birth in all creation and will eternally redound to the praise of her Maker.
At twelve o-clock in the night this divine Luminary issued forth, dividing the night of the ancient Law and its pristine darknesses from the new day of grace, which now was about to break into dawn. She was clothed, handled and dressed like other infants, through She excelled all mortals and even all the angels in wisdom. Her mother did not allow Her to be touched by other hands than her own, but she herself wrapped Her in swaddling clothes: and in this Saint Anne was not hindered by her present state of childbirth; for she was free from the toils and labors, which other mothers usually endure in such circumstances.
So then Saint Anne received in her arms Her, who was her Daughter, but at the same time the most exquisite Treasure of all the universe, inferior only to God and superior to all other creatures.
Vigil of the Nativity

*from The City of God, by Venerable Mary of Agreda
roman-catholic-saints.com, Marian Calendar
---
---
Return to Marian Calendar September

Return to Roman Catholic Saints Home Page from Vigil of the Nativity

---