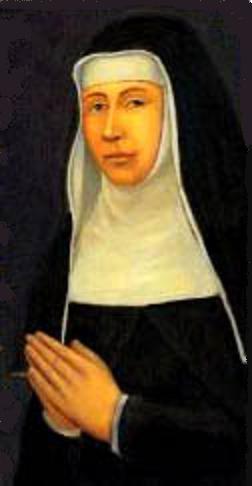 Venerable Mary Lawrence Longo

Venerable Mary Lawrence Longo
Widow, Second Order

Mary Lawrence was born in Catalonia. At the early age of fifteen years she married John Longo, a Sicilian court official. A servant whom she had found it necessary to reprimand, took revenge by giving her mistress poison. The result was that Mary Lawrence became completely paralyzed. Placing all her confidence in Our Lady, the health of the sick, she made a pilgrimage to Loreto, where she was miraculously cured. Not long afterwards her husband died.
Henceforth, Mary Lawrence devoted herself entirely to works of godliness. Clothed in the garb of the Tertiaries she nursed the incurable in a hospital which she herself had built. She longed to make a pilgrimage to the Holy Land, but it was pointed out to her that it would be far more pleasing to God if she chose to live in the seclusion of a convent. Following this suggestion, she established a convent according to the rule of Saint Clare and, taking with her twelve companions, withdrew to its enclosure. The Capuchin Fathers drew up appropriate constitutions for them. This was the year 1538.
---
---
Venerable Mary Lawrence Longo was the first abbess of the new convent and as such was a mirror of cloistral discipline. As she lay dying, some of the sisters spoke of her virtues. But Mother Mary Lawrence said to them:
"Do not say such things! What I have done is not due to any merit of mine. God gave me all. He alone should receive praise and thanks for it."
Then, as she took the crucifix in her hand and cried out, "Jesus, Jesus, Jesus," her soul hastened to eternal bliss among the saints. Her death occurred on December 20, 1542. Pope Leo XIII declared her venerable.
Prayer of the Church
O God, who didst bestow the gift of salvation on the human race through the virginal fruitfulness of Mary, grant, we beseech Thee, that we may experience her intercession who have been made worthy to received the Author of life, Jesus Christ Our Lord. Amen.
*from The Franciscan Book of Saints, Marion Habig, OFM
---
---


Return to Saints Page


Return to Roman Catholic Saints Homepage