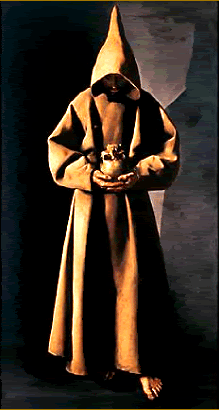 Venerable Innocent of Chiusa

Venerable Innocent of Chiusa

Confessor, First Order

Innocent Calderero, a Sicilian by birth, showed signs of his future sanctity when he was still a boy. He loved seclusion, and while other boys were busy at play, he would withdraw to some quiet place and pray. As a young man, he entered the Franciscan Order as a lay brother, and soon proved to be a model f virtue. His love of solitude was so great, that he not only avoided all contact with the world, but endeavored as much as possible to remain unobserved even in the convent. Still, his virtues could not long remain a secret to his brethren.
Venerable Innocent of Chiusa sought at all times to sacrifice his will by preferring to do the will of another. He regarded obedience to his superiors as the guide of his least action. If the choice was left to him, he always picked what was the more lowly and uninviting.
By fasts, scourging, and other rigorous penances, he vanquished the evil spirit, who tempted him often and severely. As a reward for his fidelity and diligence in striving for perfection, he was frequently favored with apparitions of our Blessed Lady, and with intimate association with the holy angels. He fostered special devotion to the great St Anne, and often sought help from her in his trials and tribulations. His life was a continual preparation for death, the place and the time of which were revealed to him many years in advance.
---
---
After serving God in the religious state for fifty-two years, he departed from this life at Rome in 1631, when he was seventy-four years old. Immediately upon his death all Rome hastened to view his remains and to pay him respect. At first Venerable Innocent of Chiusa was laid to rest in the choir of St Peter's in Montorio, but in 1653, at the request of the pious Empress Eleonore of Austria and with the approbation of Pope Innocent X, his body was transferred to the Franciscan church of St Francis across the Tiber.
At the process of his beatification, which was introduced by Pope Innocent XII in 1692, two hundred and ninety reliable witnesses testified under oath to the sanctity of his life, and many to miracles wrought at his intercession. However his cause is still pending in Rome.
From: The Franciscan Book of Saints, Marion A. Habig, OFM
---
---


Return to Saints Page


Return to Roman Catholic Saints Homepage