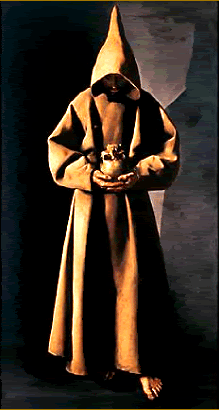 Venerable George of Augsburg

Venerable George of Augsburg
(Georg von Augsburg)

Confessor, First Order


Venerable George of Augsburg was born in 1696 in the diocese of Augsburg, and was the son of respectable peasants. He learned the baker's trade, and as a journeyman baker he crossed the Alps and went to Rome, the capital of Christendom.
The reason why George went to Rome was his interest in things eternal rather than temporal. Guided by divine grace, he resolved while there to leave the world in order to serve God alone in the Capuchin Order. He received the holy habit on November 4, 1724, in the twenty-eighth year of his life.
Even in the novitiate he was admired for his virtue, and so, after his profession, along with other duties he was assigned to the very difficult task of nursing a sick friar whose coarse ways, aggravated by illness, had taken on so repellent a character that no one could take care of him. George tended the sick man until the latter's death with so much love, humility, and patience that all were astonished. God rewarded him for it by continually drawing him closer to Himself; and George received the grace of prayer in a very high degree.
---
---
Brother George was now assigned to gather alms for the convent. While on his rounds, he was always recollected and united with God. Whoever saw him was edified. He had such a kindly way about him that he not only attracted the children, but everybody, high and low, appreciated the chance to speak to him. Those who asked him for religious instruction, or for advice and consolation, were never disappointed. One of his special friends was the Cardinal of York, the last male descendant of the Stuarts.
But George found his greatest delight in associating with the poor and the needy. Many sick persons were restored to health by his prayers, so that the gift of miracles was quite generally attributed to him. His life was so rigorous it seemed a miracle that his weak body was able to endure the hardships that were his.
After a holy life of thirty-eight years in the order, Venerable George of Augsburg died peacefully in the Lord in the convent at Frascati near Rome on October 7, 1762. People prayed at his tomb, which was beneath the sanctuary lamp. Because of the many answers to these prayers his beatification was introduced, and Pope Pius IX conferred on him the title of Venerable in 1852. His cause of beatification is still pending.
From: The Franciscan Book of Saints, by Fr Habig, OFM
---
---


Return to Saints Page


Return to Roman Catholic Saints Homepage