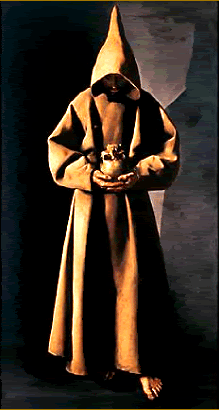 Thomas of Tolentino and Companions

Blessed Thomas of Tolentino and Companions
(Beato Tommaso da Tolentino e Compagni)

Feast Day – April 9


Born in the March of Ancona about 1260, Thomas became a Friar Minor in early youth and soon distinguished himself by his strict observance of the Franciscan rule, especially its precepts concerning the practice of poverty, and by his zeal for the salvation of souls. In 1289 he went with several other friars as a missionary to Lesser Armenia; and two years later King Haython II of that country sent him as his envoy to the supreme pontiff and the kings of France and England to obtain their assistance against the Saracens.
With the exception of a few years during which he made a second journey back to Europe, Father Thomas then continued his missionary work in Armenia and Persia. Thus he conducted a disputation with schismatic Armenians at Sis in 1305. He was in Persia when two letters, written in 1305 and 1306 by Father John of Montecorvino, the pioneer missionary in the capital of China, arrived; and since Father John asked his confreres to communicate the contents of his letters to the Holy See, Father Thomas once more traveled back to Europe, arriving in Rome some time in 1307.
---
---
Before a public consistory of the pope and cardinals Thomas of Tolentino and Companions made an eloquent address, recounting the marvelous success of Father John's work in China and pleading for effective measures which would develop the promising mission in the Far East. As a result Father John was appointed archbishop of Khanbaliq (Peking); and seven Franciscan bishops, with many other friars, were sent to his aid, although only three bishops and some of the friars survived the long journey of two years to China.
Father Thomas seems to have resumed his missionary work in Persia and remained there until 1320, when he too, together with three other friars, set out for the missions in China. But they got only as far as Thana, near Bombay, in India. There they won the martyr's crown at the hands of the Mohammedans. Father Thomas of Tolentino and James of Padua and also Brother Demetrius of Tiflis were beheaded on April 8, 1321; and Father Peter of Siena was put to death on April 11. Brother Demetrius was a Georgian or Armenian; and, being well versed in Oriental languages, he had served as interpreter for his confreres.
Some two years later Blessed Odoric of Pordenne passed through India; and after he had gathered all known facts about the martyrs, he took along their remains to the Zaitun mission in southeastern China. But the skull of Father Thomas he carried to Khanbaliq; and when he returned to Europe in 1328-1330, he brought this precious relic to the Franciscan church in the city of Tolentino, Italy. Later it was transferred to the cathedral.
In popular devotion the title of Blessed has been bestowed on all four of the martyrs ever since the fourteenth century; but only the cult of Blessed Thomas of Tolentino has been definitely approved by the Holy See, first in 1809 and again in 1894.
from The Franciscan Book of Saints, edited by Marion Habig, OFM
---
---


Return to Traditional Franciscan Calendar Page


Return to Martyrs Page


Return to Saints Page


Return to Roman Catholic Saints Homepage