Thomas of Olera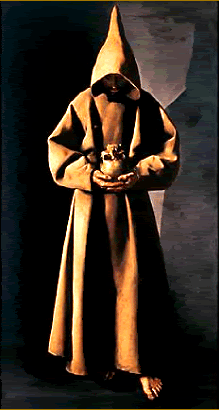 Venerable Thomas of Olera
In the early seventeenth century, before St. Margaret Mary Alacoque was born, a Capuchin brother, Thomas of Olera, who was living and working in the Tyrolese part of Austria, promoted the devotion to the Sacred Heart of Jesus by his writings, which are remarkable because of their beautiful sentiments and correct doctrine.
Born at Olera, near Bergamo, Italy, in 1563, Thomas joined the Capuchins of the Venetian Province in 1580. At the time of the Protestant Rebellion, he was sent in 1619 to the Tyrol to help combat the spread of the new heresies and to preserve the Catholic Faith in this region.
Brother Thomas went back and forth in the Tyrol, upholding the authority of the Church and of the Catholic Hapsburg rulers among the people. He gave eloquent little talks to all classes of people, preaching love for Christ and fidelity to the Church. Thus, he became "an angel of order and peace."
Venerable Thomas of Olera
From the Capuchin annals (Analecta, II, 284), we quote the following: "It was not human learning and worldly address that made him an apostle, but the wisdom of the saints, which God gave him, and meditation which raised him to heavenly truths. A plain and unlettered man, he could speak and write such excellent matter on the Faith and the Sacred Scriptures that he surprised even the highest theologians, and either shamed or converted the Church's enemies. What touched him most and occupied him till death was his love of God and his contempt of self in humility and abnegation."
The editor of Brother Thomas' writings pays him this tribute: "He was a profound abyss of humility, from which, like a great volcano there shot forth glorious coals and flames of heavenly fire and divine love. This fire burned his heart and drew him close to the Heart of Christ so that the brother became an eloquent pleader for compassion and love for the adorable Heart of Christ."
In the Capuchin friary at Innsbruck, he died, we are told, amid strains of heavenly music, on May 3, 1631. His cause of beatification was introduced many years ago; and he is called "Venerable," though this title apparently does not indicate that there has been an official declaration concerning his heroic practice of the virtues. His body was exhumed several times, and his head was found to be incorrupt. The latest exhumation took place in 1933; and both head and bones were put in a casket and placed in a niche of the Blessed Virgin chapel of the Capuchin church in Innsbruck.
In the seventeenth century, there was great devotion to our Lord's Holy Face, His Head Crowned with Thorns, His Precious Blood. Brother Thomas wrote: "How much more should we not compassionate the Divine Heart, the center of all His sorrows? Oh holy Heart, Oh Divine Heart, Oh Heart sweeter than all other sweetness, how worthy Thou art of all praise and benediction! How very worthy of compassion above all the other members of our Lord's Body! I adore Thee, Divine Heart, and bless Thee forever. Never shall I cease to praise Thee, to lament Thy sorrows, to bring Thy internal suffering to the notice of all who love Thee."
Love Jesus in exchange for His love! That was Brother Thomas' plea at the time when heresy and coldness had brought about a lack of tender love of Christ. "How few there are," wrote Brother Thomas, "who give Christ love in exchange for His love! Not many are the souls who pierce His Heart anew by sinning day and night. Ungrateful men brought Christ to Calvary, yet He does not cease to love them." And the good Brother puts into the mouth of our Lord this complaint, addressed to the sinner: "For all the good I have done to thee, you return only evil. For all the sweetness I gave thee, you give me only dregs and pierce my heart."
The Sacred Heart is the Refuge of Sinners! "Oh sinner," Brother Tomas begged those who offended God by disobeying His commandments, "if you will not be holy by the Blood of Christ, shed from the rest of His holy Body in His suffering, have mercy on yourself at least by the merits of that blood and water which flowed from His Divine Heart. Look at His opened Heart. Hide yourself in It. This Heart is as great as Heaven. It contains the souls of the saints and of the just on earth. It will receive you, too, Oh cruel soul of the sinner. There you will find rest, peace, food, and light forever."
Prayer of the Church
Almighty and everlasting God, look upon the Heart of Thy well beloved Son and upon the praise and satisfaction which He offers to Thee in the name of sinners; and of Thy great goodness grant them pardon when they seek Thy mercy, in the name of the same Jesus Christ Thy Son, who lives and reigns with Thee and the Holy Spirit forever and ever Amen.
---
Return to January Franciscan Calendar