The Blessed Virgin Mary as the Woman of the Apocalypse
by Stefano Prior
(Biella, Italy)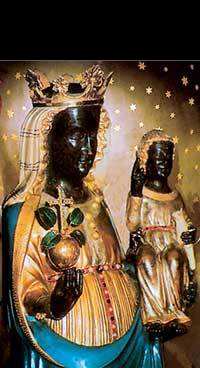 12:1 A great sign appeared in the sky, a woman clothed with the sun, with the moon under her feet, and on her head a crown of twelve stars. 2 She was with child and wailed aloud in pain as she labored to give birth....

As you can see from the image I've upoloaded... Our lady of Oropa represents completely and uniquely the Woman of the Apocalypse.

She's pregnant and the Baby Jesus is already there. She is clothed with gold (sun). There is a little be more to be known about this location: Oropa is on top of the regional road number 144 and connected to another, unique, Sanctuary dedicated to the Baptist ,with a local road numbered 513 (day of Fatima).

God bless you all.

Join in and write your own page! It's easy to do. How? Simply click here to return to Invitation 2.