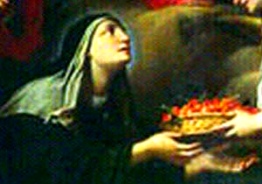 Saint Sperandia

Saint Sperandia

Saint Sperandia's fervent parents instilled in her tender heart a fervent love of God, and even as a young child she was attracted by the excellent example to prayer and the practice of virtue. Later she was inspired to lead a life of extreme penance, and finding the comforts and geniality of her home a hinderance, she left all for the sake of God and retired to the solitude of a cave on a nearby mountain, endring the hardships thereof for the sake of sinners.
After a time Saint Sperandia felt compelled to make a pilgrimage to the Holy Land; the next ten years were spent visiting the holy places ther and the shrines throughout Italy and in Rome. During her travels, Saint Sperandia taught in the villages through which she passed and exhorted her audiences to the practice of peneance.
On completing her travels, Saint Sperandia applied for admission to the Benedictine convent at Cingoli. The abbess immediately recognized her saintliness and accepted her as a member. After distinguishing herself by the strict observance of charity, penance, and the conscientious practice of the ascetical life, she was electd abbess and served in that capacity for many years.
Fortified with the prayers of her devoted community, Saint Sperandia passed from this world in a most edifying manner, surrounded by the odor of sanctity, which pervaded the whole convent. Shortly after her death, the grateful populace, who had benefited by her prayers and penances, accepted her as the patron saint of the city.
The body of the saint was first examined two years after her death. At that time it was found so perfect, fresh, and beautiful that it was put into a new coffin and enshrined beneath the major altar of the convent church.
In 1482 the still remarkably preserved body was examined in the presence of the bishop, and in 1525 it was transferred to the special chapel which had been erected to enshrine her remains. Other examinations took place in 1635, 1768, 1834, and 1870.
---
---
The body of the Saint was last examined in 1952 when it was found to be still perfectly intact, flexible, and "exhaling a suave fragrance." Although the skin is dry, it has maintained a natural color, with only a slight tendency to darken. The excellent condition and suppleness of the body has existed for over seven centuries and for that reason is reverently esteemed by the devoted pilgrims to the shrine as a "Miracolo Permanenete."
from "The Incorruptibles," TAN publications
---
---


Return to Incorruptible Saints Page

Return to Saints Page

Return to Roman Catholic Saints Homepage