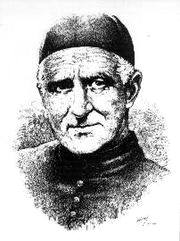 Saint Michael Garicoits

Saint Michael Garicoits
(Saint Michel Garicoits)

Feast Day - May 13


At Ibarre, in the mountainous region of southwestern France, not far from Lourdes, there lived at the time of the French Revolution a poor peasant family named Garicoits. Their humble cottage was always open to the proscribed priests who came from time to time to minister to the faithful in secret. Michael, the first son of young Arnold Garicoits and his wife Gratianne, was born here on April 15, 1797. As a little boy he had to help earn a livelihood by serving as a shepherd on a neighboring farm.
Often Saint Michael Garicoits expressed the desire of becoming a priest; but his parents always told him: "No! We are too poor." However, his grandmother went to the parish priest at St Palais and told him about Michael. This priest had often found a hiding place in the Garicoits home during the Revolution and subsequent years; and he made arrangements so that Michael could study for the priesthood, first at St Palais and then at Bayonne.
The parents would not have to pay anything, and the boy would earn his expenses by working for the priests and in the bishop's kitchen outside of school hours. Later Michael studied philosophy at Aire, and theology at Dax.
As a seminarian at Dax, where he was nicknamed our Aloysius Gonzaga, he also taught a class in the nearby preparatory school. He was ordained a priest at Bayonne in December, 1823.
Michael joined the Third Order Secular of St Francis; and from the beginning of his priestly career manifested unusual apostolic zeal. His first appointment was that of an assistant to the pastor of Cambo, who was in poor health. In a short time the young priest revived religious fervor and effectively combated Jansenism by promoting frequent Communion and fostering devotion to the Sacred Heart. He tackled the freethinkers with such earnestness, that one of them declared: That devil would give his life to save the soul of an enemy.
---
---
After two years Saint Michael Garicoits was appointed a professor in the major seminary at Betharram, and after some time rector. Though he filled these offices in an able manner, the bishop suddenly decided to merge the Betharram seminary with the one at Bayonne; and Father Michael found himself more or less stranded. There was a great need of mission work among the people; and he conceived a plan for training priests to do this kind of work. With a few companions he began to live a community life; and with his bishop's approval he drew up constitutions in 1838.
The number of his associates increased; but then the diocese received a new bishop who did not favor the founding of a new congregation. Father Michael's constitutions were revised; and his community was permitted to work only under the bishop and in the diocese. They were allowed to choose their own superior only in 1852. It was a great trial for Father Michael, but he bore it with patience and left his foundation in God's hands.
Father Michael died of apoplexy on Ascension Day, May 14, 1863.
Saint Michael Garicoits was beatified in 1923, and canonized in 1947. In 1877, fourteen years after the death of St. Michael, the congregation which he had founded received papal approval according to the original plan. It is called Auxiliary Priests of the Sacred Heart, and follows the rule of St Augustine. The members of the society take perpetual vows, and devote themselves to teaching and the care for souls.
from The Franciscan Book of Saints, edited by Marion Habig, OFM
---
---


Return to Traditional Franciscan Calendar Page

Return to Saints Page

Return to Roman Catholic Saints Homepage