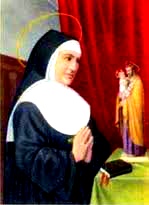 Saint Mary Joseph Rossello

Saint Mary Joseph Rossello
(Maria Giuseppe Rossello)

It was in the little seaport of Albissola that Mary Joseph came into this world on May 27, 1811, in a truly Christian family and one richly blessed with children. When she was but sixteen years of age, she entered the Third Order.
She had spent seven years in the service of a wealthy but childless couple, when she earnestly desired to enter a convent. But she was refused admission because she had no dowry. The couple for whom she worked hesitated to furnish the dowry, because they were unwilling to give up the girl whom they loved and intended to make their heir. Divine Providence came to her assistance.
The bishop of Savona knew of the special talent Mary Joseph possessed, of gathering young girls about her and instructing them in their religion. So he purchased a house, furnished two rooms as classrooms, and entrusted the work of teaching to Mary Joseph and a few other young women who were similarly qualified. And so, in the year 1837, there was organized the Institute of the Daughters of Mercy. A few years later the little band of teachers pronounced their vows.
---
---
Mary Joseph administered the office of superior during the space of forty years. She placed her community under the protecting care of Our Lady of Mercy and of St Joseph. A favorite motto of hers, which she was often heard to repeat, was, "The hands should be at work, the heart with God."
Her own experience taught her a lesson, and so she received good girls into her community without a dowry. Her love for the sick sisters was expressed in the statement: "We must look upon our sick sisters as our most reliable support. They, by their patience, their suffering, and their prayers, maintain the house and, in fact, the whole institute, since they seek and obtain for us from the Father of Mercy the blessing of heaven."
The community has grown in a remarkable manner. There are more than three thousand sisters in two hundred houses spread over Italy, Argentina, and the United States. Mother Mary Joseph departed from this life on December seventh in the year 1880. She was beatified in 1938, and canonized in 1949.
From: The Franciscan Book of Saints, Marion A. Habig, OFM
---
---


Return to Saints Page

Return to Incorruptible Saints Page

Return to Roman Catholic Saints Homepage