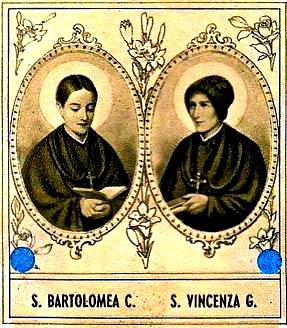 Saint Mary Bartholomea Capitanio

Saint Vincenta Gerosa and Saint Mary Bartholomea Capitanio

Feast Day – June 15


Mary Catharine Frances Gerosa, the later Mother Vincenta, was born October 29, 1784, in the diocese of Brixen, in the Austrian Tyrol. Her father was a prosperous merchant of leather goods. As a Franciscan Tertiary, she continued to live in the parental home until she was forty-eight. Every morning she attended holy Mass; at noon she visited the Poor Clare chapel; and in the evening she was back for the Angelus. After the death of her parents, she worked as a servant girl in the house of her uncle until she was thirty. The family fortune then passed into her hands, because her brothers and sisters had died; and she opened the doors of her home to the poor, distributing grain, clothes, and money to them, and serving dinner to twelve poor persons three times a week. The sick and girls who had fallen into a life of sin were the special object of her solicitude. When she inherited a small house on Lake Iseo, in Lombardy, in 1823, she transformed it into a hospital and presented it to the French Daughters of Charity.
Nine years later, in 1832, she met Saint Mary Bartholomea Capitanio and joined her in founding a new religious sisterhood.
Saint Mary Bartholomea Capitanio was born in 1807 at Lovere on Lake Iseo in the diocese of Brescia, which at the time was in Austrian territory. While her mother was an exemplary Catholic, her father was given to excessive drink; but by self-sacrificing efforts and loving care of him when he was sick, she was able to cure her father of his bad habit. Mary Bartholomea wanted to join the Poor Clare nuns from whom she received her education, but her parents refused to give their permission; and so, with the approval of her father confessor, she took the vow of chastity privately. After attending a normal school, Saint Mary Bartholomea Capitanio received a teacher's diploma; and, as a Franciscan Tertiary, she devoted herself to the education of children. Much good was accomplished among her charges by a society which she founded in honor of St Aloysius Gonzaga, whose ancestral home was not far from Lovere.
Saint Mary Bartholomea Capitanio was twenty-five when she and Vincenta Gerosa founded the Sisters of Charity of the Little Child Mary in 1832. Neither of them wanted to be the first superior. Vincenta, who was almost twice as old as Mary Bartholomea, insisted:
---
---
"I am good for nothing. If God wished me to become a religious, I desire to comply. But you must be the superior. I know nothing. I have no head. My role is to obey, to wash and care for the sick."
And she won her point.
The two of them occupied a humble dwelling in Brescia which housed a hundred orphans; and while Saint Mary Bartholomea Capitanio continued her work as a teacher, Vincenta devoted herself to hospital work. They placed themselves under the direction of the parish priest, and adopted the rule of the Daughters of St Vincent de Paul. Others soon joined them. As superior, Mary Bartholomea allowed herself no leisure, although she was a victim of tuberculosis. Her spiritual notes and conferences to her fellow sisters show that she had attained a high degree of holiness. She ceased working only when ordered to do so by her physician. Four months later, on July 26, 1833, she died, only twenty-six years old.
Mother Vincenta now had to take over the duties of a superior, but wished to be called only senior sister. Humility remained an outstanding trait of hers.
"I am nothing but a great ignoramus," she said. "We are only poor girls, whom God has asked to do a bit of work. As for me, I spoil everything I touch."
But she saw her community grow at a very rapid rate. In ten years it had forty houses in Italy. They were invited to Milan, and began to open houses in the missions of the Milan Foreign Mission Society. In 1841 Pope Gregory XVI made these sisters independent of the French Daughters of Charity. Six years later Mother Vincenta was called to her reward. In 1943 her sisterhood counted more than seven thousand members in all parts of the world.
Mary Bartholomea was beatified in 1926 and Vincenta in 1933. Bother of them were canonized in 1950.
From: The Franciscan Book of Saints, Marion A. Habig, OFM
---
---


Return to Traditional Franciscan Calendar Page

Return to Saints Page

Return to Roman Catholic Saints Homepage