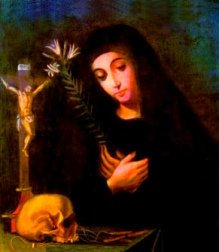 Saint Mariana of Jesus

Saint Marie-Anne Parades
(Saint Mariana of Jesus de Paredes)
Feast Day – May 26


After the death of Saint Mariana of Jesus de Paredes, a beautiful lily sprouted forth from her blood, and so she has been styled the Lily of Quito. But in far greater measure did Saint Mariana of Jesus deserve the name because of the innocence of her life. She preserved it unsullied in the midst of a wicked world, carefully protecting it by the practice of rare austerities.
From her earliest childhood Mariana, who was born in 1618, felt altogether drawn to God and to heavenly things. Meanwhile she attached herself to the Immaculate Virgin with unbounded confidence and tender devotion. She received the habit of the Third Order from the Franciscans in her native town of Quito, Ecuador, and in consideration of her great virtue, she was permitted to take the three vows of religion. Then she repaired to her home where she led a life hidden in God and devoted to prayer and penance.
---
---
Saint Mariana of Jesus quitted her home only when she went to attend divine services in church or when charity toward her neighbor required it. On such occasions she won the hearts of all she met, even the most depraved among them, by her polite and friendly manner, and succeeded in leading them back to the path of virtue.
Incidentally, it may be remarked that almighty God favored His faithful servant with extraordinary mystical gifts in support of her apostolate. By means of the Sign of the Cross or by sprinkling holy water she restored many sick persons to health; she also raised a dead woman to life.
When the plague broke out, she offered her chaste young life as a sacrifice to God in behalf of the stricken citizens. God accepted the sacrifice. She died shortly afterwards, in the 28th year of her age, in 1645. She was beatified by Pope Pius IX, and canonized in 1950 by Pope Pius XII.
*from: The Franciscan Book of Saints, ed. by Marion Habig, ofm.
---
---


Return to Franciscan Calendar Page

Return to Saints Page

Return to Roman Catholic Saints Homepage