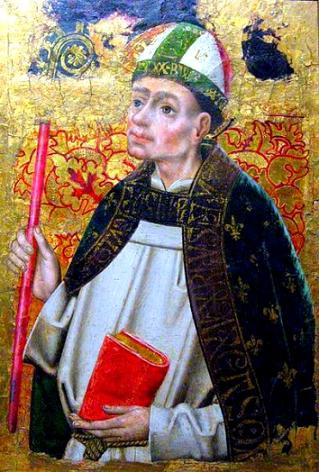 Saint Louis of Anjou

Saint Louis of Anjou
Bishop of Toulouse
Feast Day – August 20


The son of Charles II of Naples and Sicily, Saint Louis of Anjou was born in 1274 and named after his uncle, the holy king of France. It was the great concern of his mother, the niece of St Elizabeth, to rear her many children as true servants of the King of Kings.
The devout queen observed in her son Louis particularly blessed results of his maternal solicitude. He loved prayer, was reserved and gentle, and his whole conduct radiated angelic purity. Even as a child he practiced mortification. On a certain occasion, after he had retired, his mother found him sleeping on a rug on the floor of his room instead of in his comfortable bed.
Sweets and delicious foods he carried to the poor and sick with his mother's permission. It is related that once he was leaving the dining room with a roasted pullet under his mantle and so met his father. The king wished to see what he was carrying. Timidly the boy laid back his mantle, and lo, it was a beautiful bouquet of flowers!
When he was 14 Louis was taken to Barcelona with two of his brothers, as a hostage for the release of his father, who had been taken a prisoner of war. Gladly did Louis accept this misfortune to obtain his father's freedom; but at the same time, the disposition with which he accepted it was astonishing in a boy of his age.
"Misfortune," he said, "is more useful to the friends of God than good fortune, for on such occasions they can prove their loyalty to their Lord."
Under the guidance of several excellent Franciscan friars who were appointed teachers to the young princes, Louis made remarkable progress in virtue as well as in secular knowledge. In public debates he manifested his mastery of the various branches of knowledge, both sacred and profane. Theology was his favorite subject. So devoid was he of ambition that he planned to renounce his claims to the throne in order to devote himself entirely to the service of God.
---
---
About this time he became seriously ill. He made a vow that if he recovered, he would join the Order of Friars Minor. The sickness immediately took a turn for the better, but the superiors of the order hesitated to receive the young prince without the consent of the king, his father. Louis was thus obliged to defer his pious design.
At the end of six years his captivity ended. On returning home, after much pleading he finally obtained the permission of his father to settle his claims on his brother Robert, and to become a priest. Not very long after his ordination, and although he was only 21 years old, he was selected by Pope Boniface VIII for the bishopric of Toulouse.
"Whatever is lacking to the young priest in age and experience," said the pope, "his extraordinary knowledge, his maturity of mind, and his holiness of life will amply supply."
Saint Louis of Anjou had to yield to the pope's wishes, but he requested that he might first be admitted into the Order of Friars Minor. That request was granted. The royal prince was overjoyed to be permitted, for a time at least, to perform the humblest exercises in the garb of a son of St Francis; in Rome he went from door to door gathering alms.
The pope himself officiated at the ceremony of Episcopal consecration, and shortly afterwards Saint Louis of Anjou left to assume the government of his diocese. His noble birth and above all the fame of his sanctity caused him to be received at Toulouse like a messenger from heaven. The entire city went out to meet him, and everybody was enchanted with his modesty, sweetness, and angelic virtue which radiated from his face and bearing.
A sinner who for many years had lived a wicked life, cried out at the sight of him: "Truly, this man is a saint!" and then turned away from his sinful habits and led a better life.
A woman who doubted the sanctity of the young man went to church one morning to attend the Mass which the bishop was celebrating. Then she, too, cried out: "Ah, yes, our bishop is a saint!"
Bishop Louis led the poor and rigorous life of a Friar Minor and devoted himself with all solicitude to the welfare of his diocese. The poor were his best friends, and he fed 25 of them daily at his own table. His ministry, however, was destined to be short-lived.
Saint Louis of Anjou died in the 24th year of his life, having been bishop no longer than a year and a half.
Saint Louis of Anjou received the last sacraments on the feast of the Assumption of Our Lady; and on the 19th of August, 1297, while pronouncing the holy name of Mary, he yielded his soul to God. Because of the many miracles that were wrought at his tomb, he was canonized as early as 1317, during the lifetime of his mother.
from: The Franciscan Book of Saints, ed. by Marion Habig, OFM
---
---


Return to Franciscan Calendar Page

Return to Saints Page

Return to Roman Catholic Saints Homepage