Pontigny Abbey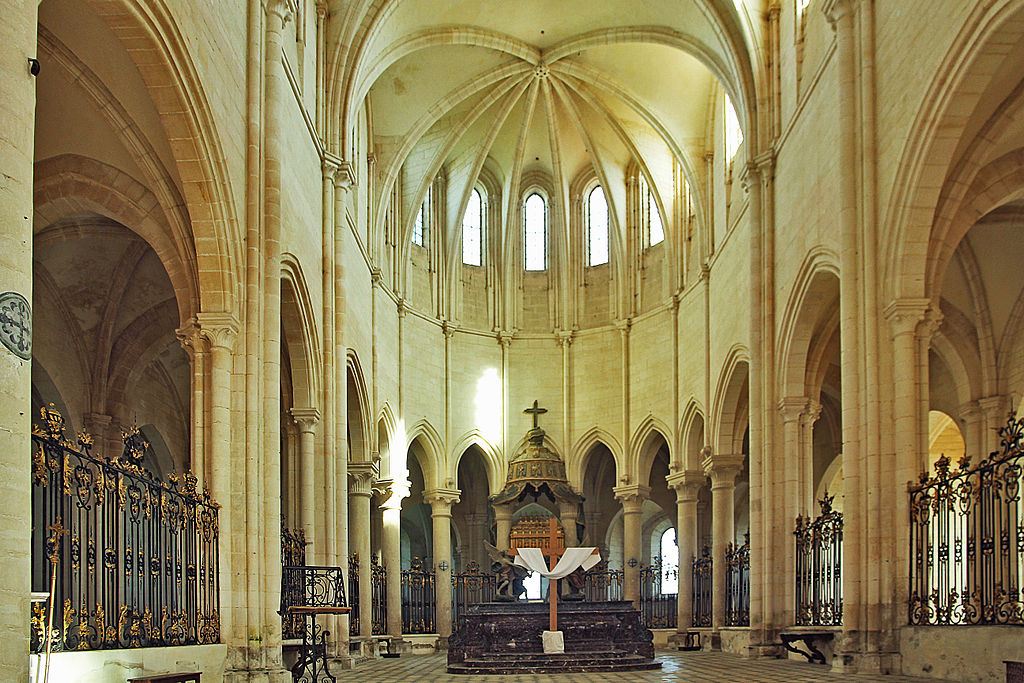 October 20: Dedication of the Abbey of Our Lady, Pontigny, France (1114)
The Abbot Orsini wrote: "Dedication of the church of Pontigny, four leagues from Auxerre, under the title of Our Lady. This abbey was founded in 1114 by Thibaud, Count of Champagne."
The former abbey of Pontigny is nestled in the Serein valley in the north of Burgundy, and is one of the oldest sites of the Cistercian order. Being only the second Cistertian monastery, it was established in the year 1114 by Hugh of Macon, the companion of Saint Bernard, in this valley north of Auxerre in the French Department of Yonne. It is notable that Hugh later became the bishop of Auxerre.
The monks valued the land, the woods and streams they were surrounded with, and built large farms around their abbey. They raised various crops, bread pigs and sheep, and made terracotta tiles and bricks. It was that strong economic base that enabled them to construct the great Romanesque style church that reached an impressive length of 120 meters that still stands intact today.
In the year 1164 the abbey received the Archbishop of Canterbury and Primate of England Thomas Becket while he was an exile due to his opposition to King Henry, and in 1206 the Queen of France, Alix de Champagne, was buried in the choir of the abbey.
---
---
Pontigny Abbey
The wealthy abbey was looted and burned by the Huguenots in about 1529 during the Wars of Religion. During the French Revolution the abbey was suppressed, and its buildings largely sold or destroyed, save for the church. Unlike most churches during the time of the French Revolution, the Abbey of Pontigny is completely preserved and is now thought to be the largest Cistercian church in France. The church is notable for its arches and columns with twin bays, its vaults on two columns and portal with tympanum cross and wrought iron hinges.
Known as the church of Notre-Dame-et-Saint-Edme Pontigny, or Our Lady of Saint Edmond of Pontigny, the old church abbey monastery became the parish church of the village of the same name after the French Revolution.
The church of Notre-Dame-et-Saint-Edme Pontigny is now abandoned, and it is used now simply as a kind of cultural meeting place.
Par Michel FOUCHER — Travail personnel, CC BY-SA 4.0, https://commons.wikimedia.org/w/index.php?curid=40566569

James Fitzhenry, Marian Calendar, roman-catholic-saints.com
---
Have A Great Story About This Topic?
Do you have a great story? Have You Visited This Shrine? Share it!
---
---
Return to Marian Calendar October

Return to Roman Catholic Saints Home Page from Pontigny Abbey

---