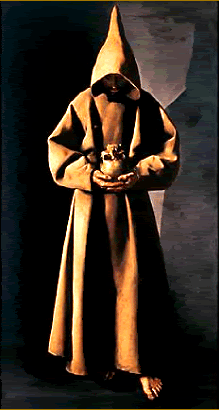 Peter Gambacorti of Pisa

Blessed Peter Gambacorti of Pisa
(Beato Pietro Gambacorti di Pisa)

Feast Day – June 17


Peter Gambacorti was born in 1355. His father was the president of the Republic of Pisa and Lucca. As a youth he led a dissipated life; but, when he was twenty-two, he received the grace of a complete conversion through the example and prayers of his sister Clare who had become a nun. Peter joined the Third Order of St Francis and retired to a lonely spot on Monte Cessano, near Urbino, in Umbria, and began to do penance there as a hermit.
One day a band of twelve robbers came upon his hut. They were so deeply affected by the hermit's poverty and piety, that they too abandoned their evil ways and joined him in his life of penance. Other disciples increased their number to such an extent that Peter organized them into a Third Order congregation called the Poor Brothers of the Love of Christ; and they moved to the wooded heights of Montebello, overlooking the Adriatic. So severe were the penitential practices of these hermits that they were accused of being in league with the devil. Blessed Peter Gambacorti of Pisa was cited before the court of the Inquisition, but it soon became evident that the charges raised against him were baseless. Because their way of life was so austere, Peter himself made the regulation that only those who were between the ages of eighteen and fifty could be admitted to the brotherhood.
The heritage on Montebello became the motherhouse of other monasteries of hermits; and in 1421 Pope Martin V gave his approbation to the Third Order congregation. By 1435, when Blessed Peter died, other hermitages of the Poor Brothers had been founded near Venice, Pesaro, Treviso, Fano, Padua, and Urbino; and under Blessed Peter's successor, Bartholomew Malercenza. Blessed Mark Marconi, who died in 1510, belonged to the hermitage at Mantua. In Rome, San Onufrio Convent was opened. Other congregations of hermits who lived according to the rule of the Third Order of St Francis were likewise merged with the Poor Brothers founded by Blessed Peter. Among these were the congregations of Angelo of Corsica, of Blessed Nichlas of Forcapalena (who died in 1449), and of Peter of Malerba. Also the Hermits of Monte Segestre.
Long after the death of Blessed Peter Gambacorti of Pisa, in 1568, the rule of St Augustine, together with special constitutions, was adopted by the Poor Brothers. A small number still exist today, and they are called the Poor Hermits of St Jerome of the Congregation of Blessed Peter of Pisa. The cult of Blessed Peter was approved by Pope Innocent XII in 1693.
From: The Franciscan Book of Saints, Marion A. Habig, OFM
---


Return to Traditional Franciscan Calendar Page


Return to Saints Page


Return to Roman Catholic Saints Homepage