Our Lady of Vivonne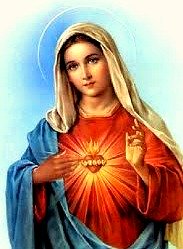 October 28: Our Lady of Vivonne, Savoy, France
The Abbot Mathieu Orsini wrote: "Our Lady of Vivonne, in Savoy, where a miraculous image is venerated, which was found by a ploughman while preparing his field for the spring planting."
Vivonne is a village in France having a population of somewhat less than 5,000 inhabitants and located about 20 kilometers south of Poitiers. It is situated on a rocky height looking down upon the three rivers that flow through the region. There are apparently two churches in the village, the better known church being the church of Saint George, on which construction began in the twelfth century. The other church is Our Lady of Sais-les-Vivonne.
---
---
Our Lady of Vivonne
According to tradition, a farmer was plowing his field when he overturned something peculiar in the sod. To his great surprise, the man found the object was a statue of the Blessed Virgin Mary. The good farmer took the statue now known as Our Lady of Vivonne, or Notre-Dame de Vivonne, that he had found back to his home. After lovingly cleaning the debris from the statue, the farmer took the statue to the local church and gave it to the pastor of the parish. The pastor immediately placed the statue that had just been discovered in the church later that same day.
The next morning when the priest returned to the church, he found that the statue was missing. After much inquiry and searching for the statue, the farmer found the statue was once again in his field. The man returned the statue to the church, but once again it disappeared from its place, only to be found again in the field. This occurred a total of three times before it was decided to build a shrine in the field where the statue had first been found. The strange phenomenon brought people from near and far to the shrine. Soon the image proved to be miraculous and pilgrimages were formed. The church which was built to honor the image of Our Lady was given to the Carmelite Order.
*from The Woman in Orbit and other sources
James Fitzhenry, Marian Calendar, roman-catholic-saints.com
---
Have A Great Story About This Topic?
I have very limited information about this feast of Mary. Have you visited this shrine? Do you have more information, or a great story about this? Please share it!
---
---
Return to Marian Calendar October

Return to Roman Catholic Saints Home Page from Our Lady of Vivonne

---