Our Lady of the Underground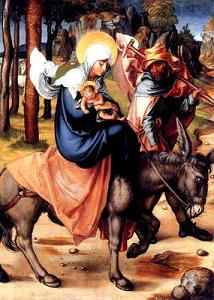 October 22: Our Lady of the Underground, Grand Cairo (12 Century)
Our Lady of the Underground, half a league from Grand Cairo. It is held by tradition that the Blessed Virgin lived for some years in this subterranean chapel.
"Saint Joseph sought to purchase for a suitable price some dwelling in the neighborhood; and the Lord ordained that he should find a poor and humble, yet serviceable house, at small distance from the city, just such as the Queen of heaven desired."
"Having therefore found this dwelling near Heliopolis, they took their abode therein. At the first entrance of the heavenly Lady with her Divine Son and Saint Joseph, She prostrated Herself to the ground, kissing it in profound humility and lovingly thanking the Most High for having secured them this place of rest after their prolonged and laborious journeying."
"She adored the immutable being of God in this prostration, dedicating all that She was to do in this place to His honor and worship. Interiorly She made a sacrifice of all her powers and faculties, offering to assume readily and with joy all the labors by which the Almighty could be served during her exile; for in her prudence She foresaw and affectionately embraced them all. By means of her divine knowledge She set a great value on sufferings; understanding how highly they are esteemed at the divine tribunal, and how her most Holy Son looked upon them as a rich treasure and inheritance."
---
---
Our Lady of the Underground
"Having performed these exalted acts of devotion, She set about humbly to clean and arrange the poor little house, borrowing the instruments for this purpose. Although our heavenly strangers were thus sufficiently provided with the shelter of bare walls, they were in want of all else pertaining to the sustenance and comfort of daily life. As they now lived in an inhabited country, the miraculous assistance, which they had enjoyed in the desert through the ministry of the angels, failed them; and the Lord left them to the last resource of the poor, namely, the begging of alms. Having come to these straits of suffering hunger, Saint Joseph went forth to seek this kind of assistance for the love of God; giving thereby an example to the poor not to complain of their affliction and, all other means failing, not to be ashamed to have recourse to this expedient. For so early the Lord of all creation allowed Himself to fall into this extreme of being obliged to beg for his sustenance, in order that He might have an occasion to return the alms a hundredfold."
"During the first three days of their arrival in Heliopolis, just as in other places of Egypt, the queen had for Herself and for her Onlybegotten no other sustenance than what was begged by His foster father Saint Joseph. When he began to earn some wages by his work, he made a humble couch for the Mother and a cradle for her Son; while he himself had as a resting place only the bare ground; for the house was without any furniture until by his own labor he succeeded in making some of the most indispensable pieces for the convenience of all three."
Our Lady of the Underground

*from The City of God by Ven. Mary of Agreda


---
Thank you to Shimon Cleopas of California for this submission:
1.Oct 2003 is when my wife & I toured Egypt.
2.We visited this place on day 3.
3.Tour guide told us about the Holy Family seeking refuge in this house after escaping Herod persecution of innocents.
4.In front of the house is a living Date Palm Tree whose fruits helped nourish the breastfeeding Mother Mary.
5.While inside the small underground house lighted with votive candles, tears kept oozing from my eyes non stop.
6.Today, I still feel like Mother Mary is "under my skin."

---
Have A Great Story About This Topic?
I have very limited information about this feast of Mary. Have you visited this shrine? Do you have more information, or a great story about this? Please share it!
---
---
Return to Marian Calendar October

Return to Roman Catholic Saints Home Page from Our Lady of the Underground

---