Our Lady of the Taper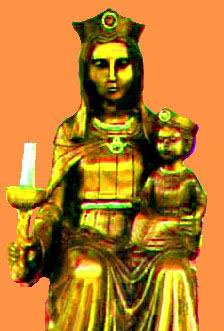 June 15: Our Lady of the Taper

The statue of Our Lady of the Taper (candle) was one reason why England was known as Mary's Dowry. The original statue of Our Lady was found on the Welsh coast, standing near the sea. It was a simple little statue of the Blessed Virgin, her Son on her arm, with a burning taper in her other hand. Devotion to the image of Our Lady of the Taper began immediately.
An examination of the statue by Bishop Barlow was made on March 16th, 1538, and states in part:
"The image now situated in the church of Cardigan which is used for a great pilgrimage to this present day was found standing upon the river Teifi with her son upon her lap and the same taper burning in her hand. The said image was carried to Christ Church of Cardigan and the image would not tarry there but was found three or four times in the place where is now built the Church of Our Lady, and the taper burning in her hand which continued burning the space of nine years without wasting."
---
---
Our Lady of the Taper
As Bishop Barlow noted, several times the statue of Our Lady of the Taper was brought into Christ Church, Cardigan, but always it was mysteriously returned to the seashore. In 1158 a special chapel was finally built to accommodate Our Lady of the Taper, as the people began to understand that the Virgin Mary wished it to be there. The shrine is known to have been a place of pilgrimage long before the twelfth century.
The first church was part of a Benedictine Priory, and the monks lived there until 1538 when the infamous Thomas Cromwell had the monks evicted and destroyed the ancient statue, as he had ordered all images of Our Lady should be sent to London to be destroyed, and the devotion was unfortunately all but forgotten.
A Bishop Petit sought to restore the shrine in the last century, and Dom Vincent Dapre, OSB, was commissioned to create a new statue using the only known description of Our Lady of the Taper, written by an Anglican, the Reverend Silas M. Harris. In 1956 the new state was placed in Cardigan as thousands of the faithful gathered to witness in a great procession. That statue, however, was not robust enough to withstand the years, and a bronze statue was commissioned and blessed in 1986. On the 18th of May 1986, Pentecost Sunday, it was solemnly reinstated in the church. Pope John Paul II lit a blessed taper he had placed in the statues hand.
*from The Woman in Orbit and other sources
---
---
Have A Great Story About This Topic?
Do you have a great story? Have You Visited This Shrine? Share it!
Return to Titles of Mary from Our Lady of the Taper

Return to Roman Catholic Saints Home Page from Our Lady of the Taper