Our Lady of the Hill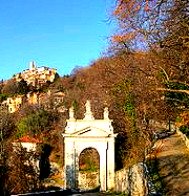 June 4: Our Lady of the Hill or Mountain

The sanctuary of the Sacred Hill at Varese in Lombardy, Italy, is said to have had its origin in a chapel built there to commemorate Our Lady's appearing to Saint Ambrose of Milan during the later fourth-century.
Saint Ambrose, a bishop as well as an early Church Father, fought heroically against the Ayrian heresy for a good part of his life. The heresy of Arianism takes its name from a heretic named Arius, who taught falsely that the Son of God was a mere creature, created by God and distinct from the Father. This very notion is refuted by Saint John, who begins his gospel:
"In the beginning was the Word, and the Word was with God, and the Word was God. The same was in the beginning with God. All things were made by him: and without him was made nothing that was made. In him was life, and the life was the light of men. And the light shineth in darkness, and the darkness did not comprehend it."
---
---
Our Lady of the Hill
In our day it is difficult to understand how nearly the whole world seemingly succumbed to this darkness, yet the heresy was a source of ruin to many. Arius was condemned at the First Council of Nicaea, and again at the First Council of Constantinople.
Saint Ambrose was also a great proponent of Mary, the Mother of God. It is believed that the Blessed Virgin appeared to Saint Ambrose during the time of the Ayrian conflict, and that the saint built the first chapel, Our Lady of the Hill, in that place at the request of the Mother of God, but also in thanksgiving for his victories while theologically refuting the heretical propositions of Arianism.
The sanctuary grew in popularity, especially after a convent of Augustinian nuns was established in the fifteenth century. The principal shrine is the church of the Immaculate Conception, with chapels of the mysteries of the rosary.
In ancient times the hill had been dedicated by the pagans to the goddess of victory; but Our Lady, as is her wont, asked that the place be built, or rebuilt, into a shrine to honor Her Divine Son and herself. It is now known as the Sacro Monte di Varese, Our Lady of the Hill or the Sacred Mount of Varese, and there are a total of fourteen small chapels located there that were built between the years 1604 and 1623. It is a popular pilgrimage site even in our day.
James Fitzhenry, roman-catholic-saints.com, Marian Calendar
---
---
Have A Great Story About This Topic?
Do you have a great story? Have You Visited This Shrine? Share it!
---


Return to Marian Calendar June from Our Lady of the Hill

Return to Titles of Mary from Our Lady of the Hill

Return to Roman Catholic Saints Home Page from Our Lady of the Hill