Our Lady of the Assumption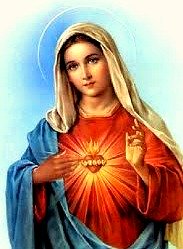 October 2: Our Lady of the Assumption, Naples, Italy (11th Century)
The Abbot Orsini wrote: "Our Lady of the Assumption, at Naples, built by the canonesses regular of Saint Augustine, out of gratitude for the favor which the Mother of God did them, by warning them to leave a house which fell down as soon as they were gone out of it."
The church dedicated to Our Lady of the Assumption is more commonly known as Naples Cathedral, or as the Cattedrale di San Gennaro, in honor of the city's patron saint, Saint Januarius. It is the seat of the Archbishop of Naples, and the present cathedral was commissioned by King Charles I of Anjou, continued by his successor Charles II, and finished by Robert of Anjou.
Inside the church is a chapel dedicated to Saint Januarius, containing the relics of the saint and a vial of his blood. Saint Januarius was a bishop of Naples who was martyred during the persecution of the Emperor. 

---
---
Our Lady of the Assumption
The church houses a vial of the blood of Saint Januarius which is brought out three times during the year, on the Saturday before the first Sunday in May, the 16th of December, and on 19 September, the day his martyrdom is commemorated, when the dried blood usually liquefies. If the blood fails to liquefy, then legend has it that disaster will befall Naples.
Saint Alphonsus Liguori wrote of the blood:
"The Neopolitans honor this saint as the principal patron of their city and nation, and the Lord himself has continued to honor him, by allowing many miracles to be wrought through his intercession, particularly when the frightful eruptions of Mount Vesuvius have threatened the city of Naples with utter destruction. While the relics of Saint Januarius were being brought in procession towards this terrific volcano, the torrents of lava and liquid fire which it emitted have ceased, or turned their course from the city. But the most stupendous miracle, and that which is greatly celebrated in the church, is the liquefying and boiling up of this blessed martyr's blood whenever the vials are brought in sight of his head. This miracle is renewed many times in the year, in the presence of all who desire to witness it; yet some heretics have endeavored to throw a doubt upon its genuineness, by frivolous and incoherent explanations; but no one can deny the effect to be miraculous, unless he be prepared to question the evidence of his senses."
*from Victories of the Martyrs, by Saint Alphonsus Ligouri
James Fitzhenry, Marian Calendar, roman-catholic-saints.com
---
Have A Great Story About This Topic?
Do you have a great story? Have You Visited This Shrine? Share it!
---
---
Return to Marian Calendar October

Return to Roman Catholic Saints Home Page from Our Lady of the Assumption

---