Our Lady of Terouenne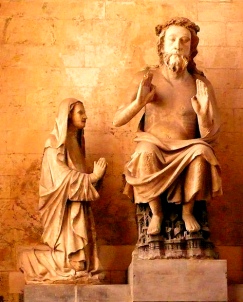 October 15: Dedication of the Church of Our Lady of Terouenne (1133)
The Abbot Orsini wrote : "Dedication of Our Lady of Terouenne, in the year 1133, by Milo, its thirteenth bishop. This church was built by Lothair II, and consecrated to the Blessed Virgin several centuries later.
The town of Terouenne, or Therouanne, no longer exists. Although it was once an intellectual, religious, and cultural center that had flourished in the Middle Ages, it was completely destroyed by Charles V, so much so that not one stone remained upon another.
When the region was conquered by Julius Caesar, Therouanne was known by the Gauls as Tarwanna or Tervanna. Later, sometime in the 7th century, Saint Audomar, whose name has since been corrupted to Saint Omer, by which he is better known, converted the native Morini to the True Faith. He was quite successful, and with the support of Saint Achaire Noyon, set up a large bishopric bounded on the north by the Yser, the south by the Canche, and the east by the Lys rivers. Included were the prosperous cities of Arras and Ypres, making it financially possible for a cathedral dedicated to Our Lady to be built at Terouenne in 1133, which was the largest in all of France at that time.
---
---
Our Lady of Terouenne
The town of Terouenne was seized from the control of rebels by imperial troops of the Holy Roman Empire in 1553. Emperor Charles V ordered the city to be razed to the ground, which included the cathedral, two parish churches and several monasteries and abbeys, and even the city walls. The ground was ploughed and salted so that nothing might grow again. The work was completed so well that today archaeologists are struggling to piece together what can be found buried beneath the earth. The site of the cathedral once dedicated to Our Lady has been discovered and cleared, but it is little more than a pile of broken stones. There was a small commune outside the town named Saint Martin Outre-Eaux which much later took on the name of Therouanne, but it is not the same as the ancient city.
A statue of Christ, known as the Great God of Therouanne, somehow survived the destruction, and it is currently on display in the cathedral of Saint Omer. And so, the diocese of Therouanne, which was once the richest and most extensive of all in Western Europe, has disappeared from the map and even the memory of the local population.
Photo courtesy of Welleschik
James Fitzhenry, Marian Calendar, roman-catholic-saints.com
---
---
Return to Marian Calendar October

Return to Roman Catholic Saints Home Page from Our Lady of Terouenne

---