Our Lady of Talan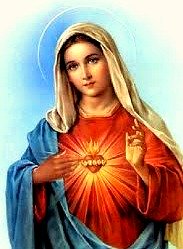 October 21: Our Lady of Talan, near Dijon, France
In my search for information about Our Lady of Talan, I can find very little even about the town of Talan, France. It is a small town estimated in the year 2007 to have perhaps 50 inhabitants. It appears to also go by Talon, and was once the capital of the duchy of Burgundy. It is located a short distance from Dijon, as noted, and there is a Forest of Talon that can also be seen on the map. During the Middle Ages there was a castle of Talan that seems always to be mentioned with the castle of Dijon. Perhaps there was also once a chapel there to which this date refers, but I can find no other information.
For your edification, I offer the following segment from The City of God.

The three Divine Persons conferred with each other saying:
"On earth the Word shall have a Mother without a father, as in heaven He has a Father without a mother. And in order that there may be the proper correspondence, proportion and consonance in calling God His Father and this Woman His Mother, We desire that the highest correspondence and approach possible between a creature and its God be established. Therefore at no time shall the dragon boast of being superior to this Woman, whom God will obey as His true Mother. This dignity of being free from sin is due and corresponds to that of being Mother of the Word, and it is in itself even more estimable and useful. It is a greater good to be holy than to be only mother; but all sanctity and perfection is nevertheless due to the motherhood of God. The human flesh, from which He is to assume form, must be free from sin. Since He is to redeem in it the sinners, He must not be under the necessity of redeeming His own flesh, like that of sinners. Being united to the Divinity His humanity is to be the price of Redemption, wherefore it must before all be preserved from sin, and We have already foreseen and accepted the merits of the Word in this very flesh and human nature. We wish that for all eternities the Word should be glorified through this tabernacle and habitation of the human nature."
---
---
"She is to be a daughter of the first man; but in the order of grace She is to be singularly free and exempt from fault; and in the order of nature She is to be most perfect, and to be formed according to a special providence. And since the incarnate Word is to be the Teacher of humility and holiness and for this end is to endure labors, confounding the vanity and deceitful fallacies of mortals by choosing for Himself sufferings as the treasure most estimable in our eyes, We wish that She, who is to be his Mother, experience the same labors and difficulties, that She be singularly distinguished in patience, admirable in sufferings, and that She, in union with the Onlybegotten, offer the acceptable sacrifices of sorrow to Us for her greater glory."
"This was the decree which the three divine Persons made known to the holy angels, exalting the glory and honor of their high and inscrutable judgments. And since His Divinity is a mirror in which He at the same time manifests new mysteries to the blessed who yield obedience, this explanation revealed in a new light the admirable order and marvelous harmony of His works. All this follows from that which we have said in the preceding chapters concerning the works of the Almighty in the creation of the angels, telling them to reverence as their superiors the incarnate Word and His most holy Mother."
Our Lady of Talan

*from The City of God by Ven. Mary of Agreda
---
Have A Great Story About This Topic?
I have very limited information about this feast of Mary. Have you visited this shrine? Do you have more information, or a great story about this? Please share it!
---
---
Return to Marian Calendar October

Return to Roman Catholic Saints Home Page from Our Lady of Talan

---