Our Lady of Rossano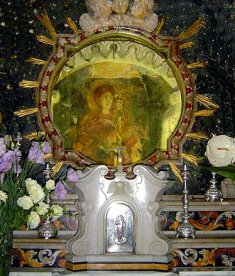 August 25: Our Lady of Rossano, Calabria, Italy
It is said that the Saracens had come ashore with a raiding party near the Italian town of Rossano, probably in the year 981. Seeking to surprise the slumbering inhabitants of the town, they snuck up to the walls and silently placed their ladders against them and began to climb. When the first of them reached the top, they were met and repulsed by Our Lady, who appeared attired in purple, while holding in her hand a lighted torch. The sight of the glory of the heavenly Queen so terrified the invaders that they advanced no further and took to flight. Thus, the Muslims were driven from the walls by Our Lady of Rossano, who appeared to save the people of this town located in southern Italy in the province of Calabria.

Rossano, or Roscianum as it was known in Roman times when it was an outpost of the budding empire, was thought to have actually been founded well over a millennium before the time of Christ. The town experienced attacks from the Visigoths, Ostrogoths, and Lombards when the Roman Empire fell in the west, although it was never subjugated by any enemy. The town reached its peak of wealth and influence during the 6th through the 11th century when it was ruled by Byzantium. Located near the Gulf of Taranto, and being close to the water, Rossano was subject to Muslim raids over the following centuries.
---
---
Our Lady of Rossano
The island of Sicily was conquered by Islamic forces in the 10th century, and was used by them as a base of operations for raids into Italy and other vulnerable cities in the region. Although they gained small footholds here and there on the Italian peninsula, the Muslims were not able to hold their possessions for long. Toward the end of the 10th century the Emir Abu al-Qasim commenced a string of assaults into Calabria. At the same time a Muslim fleet under the command of the Emir's brother made raids along the coasts of Apulia, overwhelming unwary strongholds, looting towns and taking slaves.
Although Our Lady of Rossano commemorates the Marian apparition that saved Rossano, the town is probably most famous for an ancient image of the Blessed Virgin that can be seen in the Cathedral of Our Lady Achiropita. It is known as the Madonna acheropita, or "The Madonna not made by hands." Like the Virgin de la Antigua of Seville, which was miraculously revealed to Saint Fernando III, the image of the Blessed Virgin holding the Christ Child was revealed beneath a layer of plaster in the cathedral of Rossano, and has been dated to sometime between the years 580 and 750 AD.
Our Lady of Rossano

*from The Woman in Orbit and other sources
James Fitzhenry, roman-catholic-saints.com, Marian Calendar
---
Have A Great Story About This Topic?
Do you have a great story? Have You Visited This Shrine? Share it!
---
---
Return to Marian Calendar August

Return to Roman Catholic Saints Home Page from Our Lady of Rossano

---