Our Lady of Rheims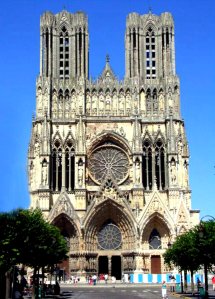 October 18: Dedication of the Church of Our Lady of Rheims (405) built by St. Nicasius
Dedication of Our Lady of Rheims, built by Saint Nicasius, archbishop of that city period in the year 405. (It is currently believed the church may have been completed in the year 400 or 401.) It was Saint Nicasius who prophesized that France would be invaded by the Vandals, telling the people of Rheims to prepare themselves. When the Vandals finally arrived at the city gates, Saint Nicasius went out to meet them with his sister, a faithful lector and a deacon. All were killed, but their sacrifice gave time for more of the people of Rheims to flee to safety.
It is interesting to note that when Saint Nicasius was beheaded he was praying Psalm 119. He was slain at the moment when he reached the phrase "Adhaesit pavimento anima mea," which means, "my soul is attached to dust." After he was decapitated, his head struck the ground and he miraculously continued the psalm, saying: "Vivifica me, Domine, secundum verbum tuum," which means, "revive me, Lord, with your words."
---
---
Our Lady of Rheims
This was the church where King Clovis humbly confessed his belief in the Triune God and was baptized by Saint Regimius in 496, and where all of the subsequent French kings were crowned. In the Gallery of the Kings there is a magnificent painting of the baptism of King Clovis surrounded by images of all of his successors.
This church, having fallen to ruins, was later rebuilt by Ebo and Hincmar. It was finished in the year 845 and still remains a place of pilgrimage to the Mother of God. At one time enemies of the cathedral chapter set fire to a monastery of Rheims. Among the relics which the sacristan tried to save was an ivory statue of the Virgin, containing some of her hair. The sacristan prayed fervently to the Virgin that she would preserve this relic. The abbot, entering the ruins of the church, found the statue upright and unharmed as if placed there reverently. From thence forward, the image was believed to be miraculous.
The present cathedral takes the place of the older churches, the previous one having been damaged by fire in 1210. It was not completed until the 14th century, and is the beautiful Gothic Cathedral that can still be seen today.
*from The Woman in Orbit and other sources

James Fitzhenry, Marian Calendar, roman-catholic-saints.com
---
Have A Great Story About This Topic?
Do you have a great story? Have You Visited This Shrine? Share it!
---
---
Return to Marian Calendar October

Return to Roman Catholic Saints Home Page from Our Lady of Rheims