Our Lady of Moyen Point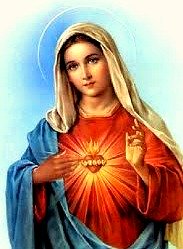 July 19: Our Lady of Moyen Point, near Peronne, France
This feast day of the Blessed Virgin commemorates the miraculous image known as Our Lady of Moyen Point that was found by a French shepherd near the ponds where the meadows of Amele are presently located.
According to local tradition, it was on an extremely hot day that July when a shepherd named Giovanni decided to take his sheep to the ponds beyond the peaceful meadows of Amele to give them some relief from the excessive heat of the day. The ponds had only recently been formed amid the rolling meadows due to the excessive rains of the previous season, and Giovanni hoped to give his sheep a treat of the cool, sweet water he knew he would find there.
The shepherd was not prepared for the mystery that confronted him there amid the secluded meadows, for the sheep suddenly stopped and stood still as they drew near to the water. Instead of rushing forward to drink, as Giovanni had expected, they would not move at all, and a few of them bleated and made other strange sounds Giovanni had never heard before. Anticipating trouble, the shepherd made his way slowly to the edge of the closest pond, and found something odd lying in the water.
---
---
Moving carefully toward the object, Giovanni was relieved to find that it appeared to be nothing more than a statue. Drawing it out cautiously, he found that it was an image of the Blessed Virgin Mary. As Giovanni rescued the statue of Our Lady of Moyen Point from the water, the sheep began to move forward and crowd closer around him, and then gazed fixedly at what their shepherd held cradled in his arm.
The shepherd's statue proved to be miraculous, and a church and shrine to Our Lady of Moyen Point was erected there near Peronna and the statue was given a place of honor therein. The church that was built there in honor of the event was damaged and later repaired in the year 1612.
*from The Woman in Orbit
---
Have A Great Story About This Topic?
I have very limited information about this feast of Mary. Have you visited this shrine? Do you have more information, or a great story about this? Please share it!
---
---
Return to Marian Calendar July from Our Lady of Moyen Point

Return to Titles of Mary from Our Lady of Moyen Point

Return to Roman Catholic Saints Home Page from Our Lady of Moyen Point
---