Our Lady of Milan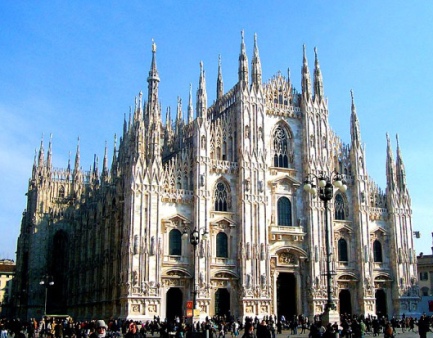 October 16: Dedication of the Church of Our Lady of Milan (1417) by Pope Martin V
The Abbot Orsini wrote: "Dedication of Our Lady of Milan, by Pope Martin V, in the year 1417. This church was built in 1388 by John Galleas, Duke of Milan."
The magnificent Milan Cathedral is a Gothic cathedral that has its roots in the fourth century AD when Milan was a Christian religious center. Today it is one of the most famous and celebrated structures in all of Europe.
Dedicated to the Mother of God, the present cathedral was begun in the 14th century, but was not completed until the 20th century when the last gate was completed in 1965. Emperor Napoleon Bonaparte himself ordered that the façade be finished in the year 1805, as he desired to see the beautiful structure completed. He guaranteed that the French would pay for the work, although they never actually did. Even so, it took seven years to complete the work. There were other additions that followed, including stain glass windows and various arches and lace-like spires. There is a large statue of the Blessed Virgin made of gilded bronze which stands atop the cathedral's main spire. In the end it can be said that the cathedral required 6 centuries to complete, and is one of the largest cathedrals in the entire world.
---
---
Our Lady of Milan
The first church thought to occupy the location was built by Saint Ambrose, although there is an old baptistery which was constructed in about 335. The good abbot appears to have been incorrect in dating the cathedral from 1388, as there is a plate attached to a stone on the church which states: "El Principio del Duomo di Milano Nel Anno 1386."
The Milan Cathedral houses a Holy Nail which was used to crucify Christ. It is marked by a tiny red light located in the dome above the apse.
The author Mark Twain said of it: "What a wonder it is! So grand, so solemn, so vast! And yet so delicate, so airy, so graceful! A very world of solid weight, and yet it seems…a delusion of frostwork that might vanish with a breath!"
Due to the long time that it took to complete the cathedral, it is a breathtaking mixture of styles that was worth the loving labor of the workmen throughout the ages! 
James Fitzhenry, Marian Calendar, roman-catholic-saints.com
Photo courtesy MarkusMark
---
Have A Great Story About This Topic?
Do you have a great story? Have You Visited This Shrine? Share it!
---
---
Return to Marian Calendar October

Return to Roman Catholic Saints Home Page from Our Lady of Milan

---