Our Lady of Ligny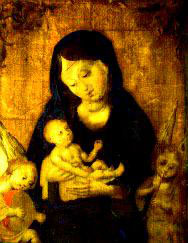 June 9: Our Lady of Ligny

Our Lady of Ligny, near Bar le Duc, in Lorraine. This image is very famous for the frequent miracles which are wrought there. Ligny-en-Barrois is a French town with a population of about 5,000 located in north-eastern France. Each year the town celebrates its patron saint, Our Lady of Virtues, on the 5th Sunday after Easter. The portrait of the Blessed Virgin has been at Ligny since 1459, and the year 2009 marked its 550th anniversary. The history of the painting of Our Lady of Virtues, or Our Lady of Ligny, and the town of Ligny-en-Barrois, are closely interlinked.
The portrait is a silk painting unlike any other portrait of the Blessed Virgin. It was originally known to be in the possession of Pope Urban IV, but after many wanderings, the pious image was given to the canons of the collegiate church of Ligny in the year 1459 by Antoine de la Salle, the tutor of the son of Count Louis I of Luxembourg.
---
---
Our Lady of Ligny
During the war between Francis I and Charles V, the Count Antoine de Luxembourg was allied to the King of France. Ligny was besieged, stormed and destroyed on June 29, 1544. The Holy Image of Our Lady of Ligny was stolen by an Imperial trooper, (actually a German mercenary), but it was retrieved by a laborer and returned in grand procession in 1581. This procession was led by the Countess Margaret of Savoy, who built a new monastery for the Capuchins over the ruins of the previous site. She also began the devotion to the portrait known as Our Lady of Virtues.
During the French Revolution Church property was confiscated as at every other place. The church at Ligny was sold in 1791 and then destroyed. During the Terror, however, the painting was hidden by two councilors. The painting was restored to its proper place when the revolution died down. In 1814, during the "Campaign of France," the town of Ligny was again besieged. A thousand young soldiers defended the town against odds of ten to one. Their bravery did not stop the town from being taken and eventually looted, but at least the homes were not destroyed despite the best efforts of the Prussian artillerymen. In a statement attributed to Canon Souhaut, it is recorded that: "The protection of the sky over the city seemed indisputable so that even the Prussians attributed the futility of their efforts to set artillery fire to the town to the miraculous image of Our Lady of Ligny." This protection seemed to continue through World War I, as, according to some, Our Lady of Virtues protected the city through four separate bombings that caused no deaths.
---
---
Have A Great Story About This Topic?
Do you have a great story? Have You Visited This Shrine? Share it!
---


Return to Marian Calendar June from Our Lady of Ligny

Return to Titles of Mary from Our Lady of Ligny

Return to Roman Catholic Saints Home Page from Our Lady of Lignyfrom Our Lady of Ligny