Our Lady of La Rochette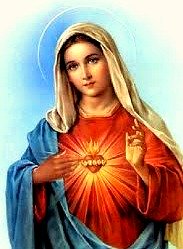 October 14: Our Lady of La Rochelle, (La Rochette) France (7th Century)
The Abbot Orsini wrote: "Our Lady of La Rochette near Geneva. A shepherd coming up to a bush, where he heard a plaintive voice, found there an image of the Blessed Virgin, which led to a church being built there."
The Marian Calendar I used listed this date as Our Lady of La Rochelle, and further investigation revealed it actually refers to Our Lady of La Rochette, as stated by the good abbot.
La Rochette, France, is a difficult town to locate. The Abbot Orsini wrote that it was near Geneva, and there is a town, La Croix-de-la-Rochette, just south of Geneva along the lake Saint Clair in France. It is near the cities of Savoie, Isere, Haute-Savoie and Lyon in the Savoie department in the Rhone-Alps. The population is quite small, having only 248 inhabitants at the last census. A tourist guide makes mention of an early church which is listed as a sight-seeing destination only. I can find no mention of a miraculous image of the Blessed Virgin still at this site.
---
---
Our Lady of La Rochette
"The impetuous floods of the Divinity met in this holy City of the sanctified soul of Mary. It took its origin from the foundation of his Wisdom and Goodness, by which and whence He had resolved to deposit within this heavenly Lady the greatest graces and virtues ever to be given to any other creature for all eternity."
"And when the hour had arrived for giving them into her possession, namely the very moment of her coming into natural life, the Almighty fulfilled according to his pleasure and full satisfaction the desire, which He had held suspended from all eternity until the time for gratifying this wish should arrive. The most faithful Lord executed his design, showering down all His graces and gifts in the most holy soul of Mary at the time of her Conception in such an overpowering measure as no other saint, nor all of them combined, can ever reach, nor ever human tongue can manifest."
"Although She was adorned as the Bride, descending from heaven, endowed with all perfections and with the whole range of infused virtues, it was not necessary that She should exercise all of them at once, it being sufficient that She exercise those, which were befitting her state in the womb of her mother."
*from The City of God by Ven. Mary of Agreda
James Fitzhenry, Marian Calendar, roman-catholic-saints.com
---
Have A Great Story About This Topic?
I have very limited information about this feast of Mary. Have you visited this shrine? Do you have more information, or a great story about this? Please share it!
---
---
Return to Marian Calendar October

Return to Roman Catholic Saints Home Page from Our Lady of La Rochette

---